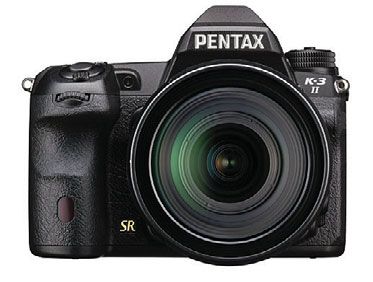 Ricoh imaging Americas has introduced the Pentax K-3 II Digital SLR, a possible replacement to the award-winning K-3. The new camera inherits the magnesium alloy casing, metal chassis, 24.35 effective megapixel resolution, 27-point AF system and 8.3 fps burst shooting, with the addition of an advanced 4.5EV stop shake reduction system, high-speed AF algorithm, GPS, gyro sensor with panning detection and automatic horizon correction.
The K-3 II is the first Pentax camerato feature Pixel Shift Resolution for capturing still life subjects with ultrahigh resolving power. Debuted in th Olympus OM-D E-M5 II, Pixel Shift technology uses the camera's inbody image stabilisation mechanism to move the image sensor at single pixel increments and capture four separate images. These images are subsequently combined into a single high definition image. Ricoh claim this will provide higher resolving power, lower false colour and improve overall image quality of non-moving subjects.
The built-in GPS records shooting location, camera orientation, and altitude, and tags the images. By combining the power of GPS positioning with in-body shake reduction mechanism, the camera's exclusive built-in Astrotracer feature tracks and photographs astronomical bodies such as stars and planets.
The Pentax K-3 II will be available for a suggested retail price of $1099.95.