Samsung, unveiled the Odyssey Neo G9 Monitor featuring the World's First Dual UHD display along with Quantum Matrix Technology for higher picture quality. The Odyssey Neo G9 is the latest addition to the Odyssey series and lets gamers see new levels of detail with an unparalleled field of view. The monitor delivers 7680×2160 resolution and a 32:9 aspect ratio in one screen for the first time.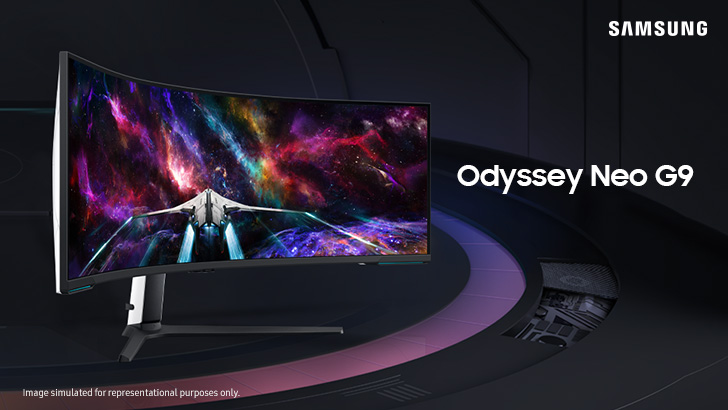 Its 1000R curved 57-inch screen uses quantum mini LED technology with VESA Display HDR 1000 specification to deliver superior imaging in any gaming environment. In addition, the new DisplayPort 2.1 allows lossless industry-standard Display Stream Compression (DSC) to transmit information without distortion. The Odyssey Neo G9 also supports a refresh rate of 240Hz so that gamers will not miss a thing during their fast-paced gameplay.
The monitor features a slim design and is packed with Core Lighting+ that provides a more immersive ambiance to the gaming environment. The back panel of the monitor mimics the game scenes and changes according to the colours on the screen. The monitor comes with an Ergonomic Stand which allows users to adjust the monitor's height or tilt to find the perfect angle. The PBP (picture-by-picture) and PIP (picture-in-picture) features demonstrate how gamers can use such an ultra-wide screen for multitasking.
"With Odyssey Neo G9, we are introducing the future of gaming with state-of-the-art innovations. Industry first features such as Dual UHD display and new levels of speed through 240Hz refresh rate enable the Odyssey Neo G9 to make gaming a more lifelike experience for enthusiasts. Powered with Quantum Matrix Technology, the monitor offers an unrivaled visual experience," said Puneet Sethi, Vice President, Consumer Electronics Enterprise Business, Samsung India.
Odyssey Neo G9 supports a high density of 140PPI (Pixels per inch) making the images sharper and more detailed. The height of the monitor is the same as a 32-inch Monitor, with a 35% larger active area compared to a 49-inch monitor. The screen offers a 32:9 ratio which allows users to see more action with a wide field of view. 1000R curved screen enhances depth perceptions and minimizes peripheral distractions delivering focused and immersive gameplay.
The monitor is housed with a VESA Display HDR 1000 which makes every scene vivid and life-like providing extremely accurate colour and contrast reproduction. Peak brightness of 1000 nits and contrast ratio of 1000000:1 enables enhanced colour expression and depth in the visuals. The screen comes with a Matte Display which absorbs both artificial and natural light enabling the gamers to focus on the battles without being disturbed by reflection of light. sAGAR (Super Anti-Glare, Anti–Reflection) film on the Odyssey Neo G9 makes it glare free.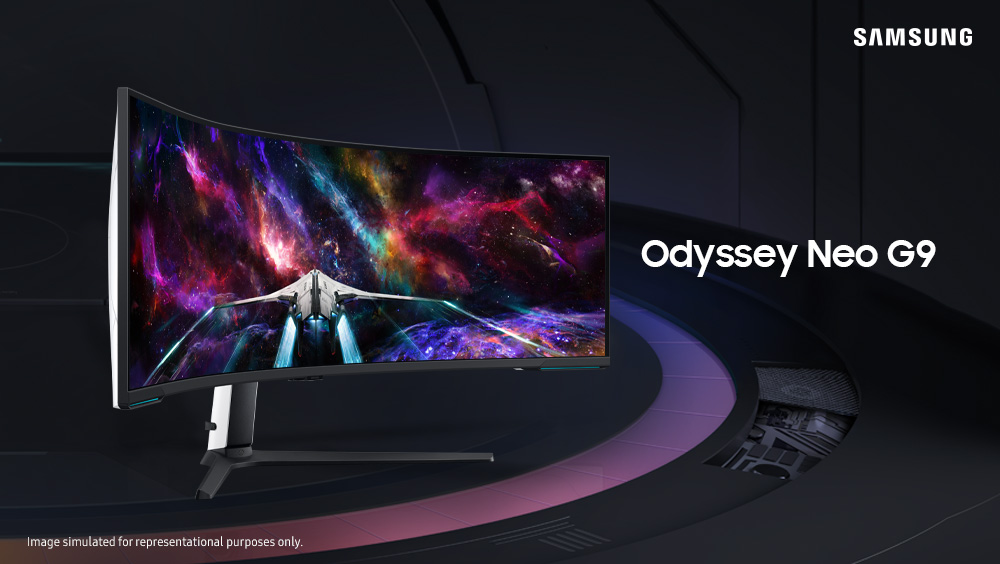 The new Odyssey Neo G9 is power packed with DisplayPort 2.1, HDMI 2.1, and USB Hub to enable users to connect their favorite devices without any hassle. The PBP (picture-by-picture) and PIP (picture-in-picture) features demonstrate how users can make the best use of the wide screen instead of setting up multiple monitors. The monitor also comes with Auto Source Switch+.
Price and Availability
Odyssey Neo G9 monitor comes in white color in India at a price of INR 225000
Customers can buy monitors from Samsung's official online store Samsung Shop, Amazon, and all leading retail stores.
For more information, please visit https://www.samsung.com/in/monitors/gaming/
Offers
Odyssey Neo G9 will be available at a no cost EMI with an instant cart discount of INR 10000 when purchasing from Samsung E-store between August 24th and 31st and INR 3500/- on credit and debit cards of leading Banks.