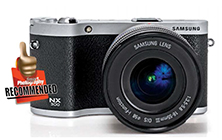 Samsung announced the NX300 in the annual Samsung Forum held this year in Hyderabad. The camera uses an APS-C size sensor, and boasts advanced features such as NFC and Wi-Fi. Unfortunately, the camera was provided to us only for a short time, inadequate for an in-depth understanding of some features.
Design and Build Quality
The NX300 is beautifully crafted with a metal top and sturdy engineering plastic body. The camera has a wellcontoured hand grip and an ergonomic thumb rest. A faux leather lining completes the design, which offers better grip. The lens mount and tripod receptacle are metal. The LCD can be tilted 90 degree upwards and about 45 degree downwards. The mode dial is placed near the shutter release and command dial.
Key Features
The 20.3-megapixel Samsung NX300 uses an APS-C size (23.5 x 15.7 mm) CMOS sensor with RGB Primary Colour Filter. The camera features a Samsung NX mount. Samsung uses Optical Image Stabilisation, and hence the body does not feature any shake-reduction feature. The NX300 employs supersonic waves to shake off dust from the sensor assembly. The camera uses Phase detection and Contrast AF methods for focussing. Focus modes included are Single AF, Continuous AF, Touch AF and MF. In Phase Detect mode, the camera uses 105 focus points, while in Contrast AF, it uses 247 focus points. The NX300 uses an electronically controlled vertical travel focal plane shutter, providing shutter speeds ranging from 30 to 1/6000 sec, along with a Bulb setting (with a 4-minute limit). The camera uses TTL 221 block segments for metering and the metering modes are Multi, Centre-weighted, and Spot. Exposure can be compensated up to +/-3 EV in 1/3 EV steps. Sensitivity ranges from ISO 100 to 25,600. Still images are captured with maximum pixel dimensions of 5472 x 3648 pixels in Raw or JPEG format with JPEG quality options of Super fine, Fine, and Normal. Movies are recorded in MP4 (H.264) format with the best quality of 1920 x 1080 at 60fps, 30 fps, or 24 fps with quality options of High and Normal. Burst mode allows you to capture JPEG or Raw images at 8.6 frames per second in full resolution. 3D images are recorded in MPO format. Self-timer can be set for 2 to 30 sec delay. White Balance options are Auto, Daylight, Cloudy, Fluorescent (W, N, D), Tungsten, Flash, Custom, and K (Manual). White Balance micro adjustment is available in 7 steps each in Amber, Blue, Green, and Magenta axes. Picture Wizard mode allows you to apply different photo styles to your photograph such as Standard, Vivid, Portrait, Landscape, Forest, Retro, Cool, Calm, Classic, and Custom (1 – 3).
Shooting modes available are Smart Auto, Program, Aperture Priority, Shutter Priority, Manual, Lens Priority, Smart, and Wi-Fi. The Smart mode is essentially an automatic mode, which allows you to select one of the desired effects – Beauty Face, Landscape, Macro, Action Freeze, Rich Tone, Panorama, Waterfall, Silhouette, Sunset, Night, Fireworks, Light Trace, Creative Shot, and Best Face. In addition to these, the NX300 includes 10 Smart Filters such as Vignetting, Miniature, Coloured Pencil, Watercolour, Wash Drawing, Oil Sketch, Ink Sketch, Acryl, Negative, and Selective Colour (R / G / B / Y). The camera accepts an external flashgun via the accessory shoe (hot-shoe). The SEF8A kit, which we received for the test, included a small external flash also. The supplied flashgun has a guide number of 8m at ISO100 and offers a 28mm equivalent coverage at the wide-angle end. The flash has an X-sync speed of up to 1/180 sec.
The camera uses an AMOLED capacitive type touch control enabled tiltable LCD. This 3.31-inch screen has a resolution of 768,000 dots. The camera uses an SD/SDHC/SDXC card for storage. Geo-tagging is possible with an optional GPS module WGS84. The camera features NFC (Near Field Communication), which allows you to transfer data between any smart device equipped with the same. The NX300 is powered by a rechargeable Li-ion battery pack (BP1130 supplied). The camera weighs 284g (without battery) and has dimensions of 122.0 x 63.7 x 40.7mm (excluding projections).
Ergonomics
The NX300 is comfortable to handle and operate. The camera is well balanced with the kit lens. Images on the LCD appeared crisp and the AMOLED touchscreen is quite responsive. The position of the mode dial can hinder smooth operation of the mode dial. All other buttons are intuitively placed to enhance user experience. Talking of user-friendliness, we have to mention the PDF user manual that can be downloaded from the Samsung website. The first 28 pages of this 203-page manual are dedicated to teaching the basic concepts of photography such as shutter speed, aperture, depth-of-field etc. to novice photographers.
Performance
The Samsung NX300 performed well in our tests.
Sharpness: Images were sharp out of the box.
Metering: Metering modes performed as expected.
Autofocus: Autofocus was fast, silent, and smooth. It locked on to subjects without any problem even under low light.
Aberrations: We observed prominent darkening of corners with the kit lens. The lens also produced flare at the wide-angle end at wide-open aperture. Chromatic Aberration was under control.
LCD: Images in the LCD were crisp and clear, and the touch response was smooth.
Distortion: The lens produced barrel distortion up to 24mm equivalent, and pincushion thereafter.
Auto White Balance: Auto White Balance performed well under daylight and cloudy situations. Though it produced casts under artificial light sources, these could be easily removed during post-processing.
Noise: The images had a native print size of 12.16 x 18.24 inches at 300ppi. At 25 percent screen size, images were noise-free up to ISO 3200. ISO 12,800 and 25,600 were noisy. Slight noise was observed at ISO 6400. Observed at 50 percent, we did not observe any noise till ISO 800. ISO 1600 and 3200 were soft, owing to the noise-reduction kicking in. At this magnification, ISO 6400 showed prominent noise. When the image was viewed at 100 percent view, we observed traces of noise from ISO 400 onwards, though not observable in normal everyday images. You can safely use up to ISO 1600 without worrying too much.
Value for Money
The Samsung NX300 retails at an MRP of Rs.46,500. At this price, the camera seems a good buy, but we
are clueless about when Samsung is going to launch lenses in India.
VERDICT
The NX300 is a good camera for its price. But the absence of compatible lenses make the choice a risky one, unless you are comfortable with using the kit lens for the camera's entire lifetime. We are not sure why Samsung is refraining from unveiling lenses and taking competition head-on in a strong digital camera market like India. Hope someone is listening!
Sujith Gopinath