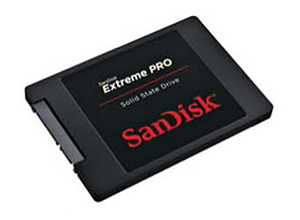 On June 3, 2014, SanDisk Corporation announced the availability of its new SanDisk Extreme PRO SSD, a drive designed specifically for gamers, PC enthusiasts and media professionals. It offers sequential read speeds of 550 MB/s and write speeds of up to 520 MB/s, and can run graphicsintensive applications and games smothly.
"Building on the success of our
award-winning SanDisk Extreme II, the new SanDisk Extreme PRO leverages the latest developments in our innovative NCache Pro Technology to enable 24×7, realworld drive performance and responsiveness," said Rajesh Gupta, Country Manager India, SanDisk Corporation. He added, "with its ability to deliver consistently fast computing backed by the industry's first 10-year limited warranty, the Extreme PRO SSD delivers the performance, trusted reliability and value that enthusiasts and professionals expect from SanDisk." SanDisk's NCache Pro technology enables efficiency in multi-tasking, and improves responsiveness from desktops, laptops, and gaming consoles.
The SanDisk Extreme PRO SSD will be available online and through SanDisk's worldwide network of authorized distributors and resellers for purchase. It is compatible with any PC, laptop or game console that accepts 2.5-inch SATA storage devices, and is offered in capacities of 240GB (Rs.15,499), 480GB (Rs.29,999), and 960GB (Rs.48,999).