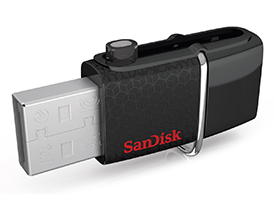 SanDisk recently announced the SanDisk Ultra Dual USB Drive 3.0, a USB flash drive featuring both a micro-USB and a high-speed USB 3.0 connector for super-fast file transfers between On The Go (OTG)-enabled Android devices, PC and Mac. The new Ultra Dual USB Drive 3.0 enables mobile users to transfer files even faster, as well as free up space on their Smartphones and tablets. The drive simply connects via micro-USB to a compatible Android device and gives users up to 64GB2 of extra storage instantly.
The new SanDisk Ultra Dual USB Drive 3.0 sports a retractable design for easy usability, as well as a longer micro-USB connector to accommodate device cases or port covers. The USB drive offers a convenient way to transfer and share content via an Androidpowered Smartphone or tablet's micro- USB port without the need of cables, email or wireless set-up. The drive also offers USB 3.0 performance at up to 130MB/s from the drive to the computer for users to quickly transfer and back up photos, videos and other files originally taken with their Smartphone.
Meanwhile, the SanDisk Memory Zone app, which gives users even greater control over their mobile device's memory storage, has been downloaded more than two million times via Google Play store. SanDisk's Memory Zone app is compatible with most Androidpowered devices and allows users to easily locate, organize, transfer and back up data. When the new SanDisk Ultra Dual USB Drive 3.0 is connected, the Memory Zone app auto-launches, and allows users to easily manage and transfer content between their mobile device and the drive.
The SanDisk Ultra Dual USB Drive 3.0 is now available on Flipkart.com in 16GB to 64GB capacities with MRPs – 16GB – Rs. 1099, 32GB – Rs. 1749, 64GB – Rs. 3049 respectively.