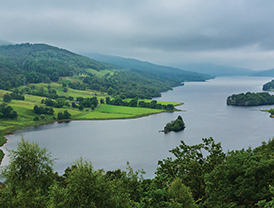 Ajay Sood (Travelure) is an accomplished travel photographer and a travelogue writer. His sole objective is to make the destinations he covers desirable. He has been profiled as Mastercraftsman in Smart Photography (May 2012). He was on the jury of Canon Photomarathon 2012. He is also an assignment photographer for National Geographic Traveller.
He is a Canon Photo Mentor. Besides mentoring photography workshops, he leads photo-tours and contributes travelogues and features to various publications. He has a passion for capturing the sights, sounds and stories of places he visits. He has travelled across India extensively and to over 20 countries across the globe. His 27 years in the communication industry have been his training ground, leading to his deep understanding of the visual medium, reflected in his unique compositions. More of his work may be seen at www.travelure.in
'Winner of Grab Your Dream Season 2' photo contest organised by Cox & Kings and EzeeGo
Even before I started to enjoy a drink, I had always wanted to do the Whiskey Trail in Scotland. I finally got around to doing it a little while back. While I was making my bookings, I realised there were 4 different trails on offer – Islay, Highlands, Lowlands and Speyside. Being partial to Speyside whiskeys, I chose that.
Till I reached Edinburgh, my excitement was all about the various whiskeys I'll taste. On leaving Edinburgh, our group made our first stop at a large and an almost empty parking lot. We did not know what to expect. Our driver-cum-guide, Andrew, requested us to disembark.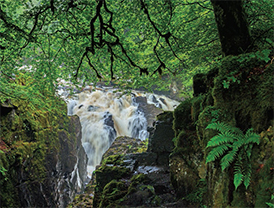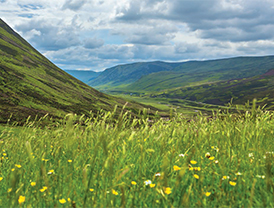 We made our way on a narrow dirt trail in to the woods. Once we were inside  the thick oak forest, despite it being morning, it seemed rather dark. We walked in silence for about 20 minutes, and suddenly, we hit a clearing, or what we thought was a clearing. In fact we had left the forest and came to a beautiful locale.
We were on the banks of a cluster of lakes (or lochs, as Scots call them). The lakes extended till distant horizons and then faded and merged in to the sky.
We stared speechlessly, for what seemed like a long time. The lakes had some waterfalls and the vegetation ranged from giant oaks to ferns of various varieties. Another prominent flora included colourful wild heather
Andrew told us that the place is called Queen's View and it was just about 2 miles from a small scottish town, Pitlochry. That moment on, I had forgotten all about the whiskeys and had fallen in love with the trail instead.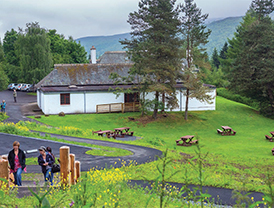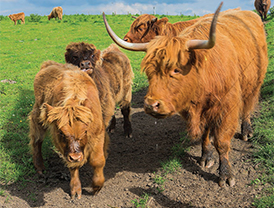 The scenic landscape, the gorgeous blue skies, thick but gentle clouds, colourful wild plants, verdant green grasslands dotted with jersey and highland cows, undulating terrain and once-in-a-way sighting of agile yet shy red deers was to be a routine for the next three days – a routine we all loved.
We moved from town to town and distillery to distillery, but nature's beauty continued to surprise us at every curve. Pitlochry, Grantown, Elgin, Braemer, Knockando, Tomintoul, Blairgowrie – all had their own charm. Grantown, for example, lies partly in Moray region and partly in Highlands. It is on the banks of the River Spey.
The architecture in these towns was colonial, marked by low-rise construction, beautifully maintained facades and patches of green all around. The streets were clean with sparse crowds. Infrastructure did not seem stretched. Despite their miniscule sizes, these towns had their own cute main street markets complete with restaurants, open-air roadside cafes and bars, daily needs stores and other items necessary for locals and tourists to get by.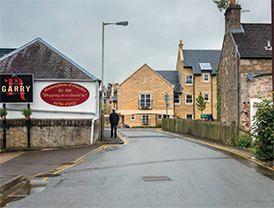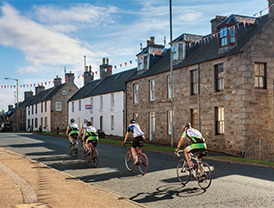 Garth Hotel (how much more Scottish you can get!) was to be my home for the next couple of days. It was extremely clean and surprisingly well equipped to cater to any leisure traveller's needs. Despite being an 18-room hotel, it had its own chef, who conjured tasty meals at every dinner I had here.
This pleasant little hotel was on the main street and had started business as an inn in 1850s. Unlike in India, the main street here was clean and not crowded – in fact you'd be lucky to spot a car or bicycle pass by. Another surprise was the rich and bright carpet of greenery, which covered the entire area.
Scottish countryside is famous for its castles and during these 3 days, we saw many of them – Drumin castle, Braemer castle, Balmoral castle and Corgarff castle, to name a few.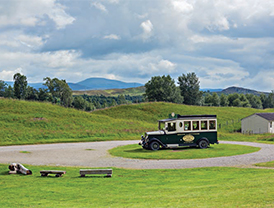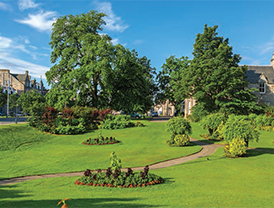 What strikes you about these castles is their location. Most of them are away from nearby towns and are located in splendid isolation. The castle building normally forms just about 1% of the estate's area. The rolling green meadows and gardens leave you gaping.
Next day, we entered the Cairngorm National Park, which is the heart of the Whiskey trail. The park offers a lot more than what we saw. It has ski slopes, wildlife preserves, museums, activities for various age groups including hiking, rafting, etc.
Following morning brought us to the countryside that houses Glenlivet, Cardhu and many other distilleries. In a one-horse town called Tomintoul, I saw a single malt bottle, which holds a Guinness Book of World Record for storing 105.6 litres of Tomintoul single malt. The bottle is 1.44 metres tall and is housed in a restaurant called Clockhouse.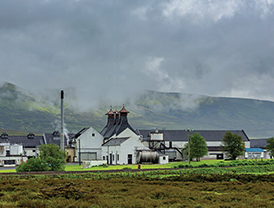 This little town also has a world-famous whiskey store – The Whiskey Castle. It boasts over 500 single casks and small batch Single Malts.
During this trail, we came across many rivers – Tay, Northern Esk, Southern Esk, Dee, Spey, Forth, etc. These ranged from small and gently flowing little streams to monstrous and noisily gushing deluges – some passing through a thick cover of forest while the others flowing through vast open green stretches
– each, more beautiful than the other. For a limited geography, Scotland has about 50 rivers and about 3000 lakes. The region sure is flush with fresh water sources.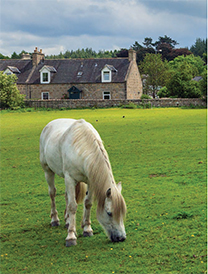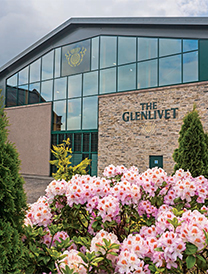 My interaction with the Scots revealed that they are proud of their nation, heritage and ancestry. As a race, they are rugged-looking yet gentle. And like Indians, they are also extremely hospitable.
Those three days have long gone, but I can still feel the sights and sounds as if it all happened yesterday. I have promised myself that I will visit Scotland again. This time, not for just three days, but more like a fortnight. And, this definitely will not be a whiskey trail tour.| SP