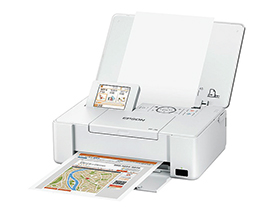 On September 2, 2014, Seiko Epson announced a series of new inkjet printer models, for the year end holiday season. The SCPX5VII is a new model in the Pro Series, targeting professional photographers and hobbyists. This replaces the PX-5V that was launched in February 2011. The new A3 plus model utlizes the newly-developed Epson UltraChrome K3 INK. The new photo black ink reproduces a deeper or richer shade of black, and helps produce other colours with vivid colour gradations. The printer will become available in November.
In the Colorio Series, the company is offering an A3 format multi-functional EP-977A3, A4 format, EP-907F with fax function, A4-format MF models of EP- 807AW, EP-807AB, EP807-AR, EP-777A and EP-707A, all of which utilize 6 colour inks. Another two models in A4 format, the PX-437A and PX-047A use 4 colour inks.
The Colorio PF-70 is a compact and versatile printer which produces photos from digital cameras via memory card slot and from Smartphones via Wi-Fi. The printer accepts a wider range of papers including seal paper and 60mm wide roll paper. The printer measures 249x176x85mm, and will sell for around 20,000 Yen from late October
The Colorio-Me E0850 is specifically designed to make postcards. It uses a 7-inch colour LCD monitor and keyboard with pre-installed 1,571 kinds of design templates and 3,476 kinds of illustrations. Photos taken by digital cameras and Smartphones are downloadable via USB cable. The E-850 will sell for around 53,000 Yen.