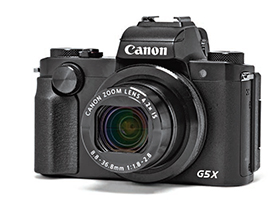 The role of compact cameras has been almost completely taken over by smartphones, mainly due to convenience. To differentiate between a camera and a smartphone, camera manufacturers had to innovate, and the result is the segment now known as premium compacts. These are essentially compact cameras with larger-than-usual sensors (mostly 1-inch Type), wider maximum apertures and sturdy construction. The Canon PowerShot G5X joins this segment currently dominated by Sony RX-series cameras.
Design and Build Quality
The Canon PowerShot G5X is built sturdy with a generous use of metals in combination with engineering plastics. The body has a premium look and feel in every aspect, including protruding rubber grips and matte inished exteriors. The doors and hinges are of a good standards. The lens has a two-segment construction and it does not protrude much during zooming. The swivel and rotate LCD brilliantly hides the connecting cables unlike tilt-only screens seen in some other cameras. The camera has a metal tripod receptacle. The tiny lash resides closer to the lens, just ahead of the accessory shoe so that it does not cause vignetting.
Key Features
The Canon PowerShot G5X is a 20.2 megapixel compact camera with a 1.0- inch Type (9.6 x 12.8mm) sensor. The camera features a DIGIC 6 processor. It houses a 24-100mm equivalent lens with an optical (lens-shift type) image stabiliser system. In normal mode, the lens focusses from 5cm to infinity at the wide-angle end and from 40cm to infinity at the telephoto end, whereas in Macro mode, it focusses from 5 to 50cm at the wide-angle end. Focus modes include Continuous AF, Servo AF, and Manual Focus. AF frame can be set to 1-point or Face+Tracking (up to 31 AF points). The camera uses the usual three metering modes—Evaluative, Centre-weighted average, and Spot. ISO sensitivity ranges from ISO 125 – 12800. You can also choose Auto option. Shutter speeds range
from 30 to 1/2000second along with Bulb option. The lens has an aperture range of f/1.8 to 11 at the wide-angle end and f/2.8 to 11 at the telephoto end.
The built-in flash has a range of 50cm to 7.0m at the wide-angle end and 50cm to 4.0m at the telephoto end, presumably in Auto ISO mode. Flash modes available are Auto, On, Slow Synchro, and Off. The camera also has a standard accessory shoe (hot-shoe). Shooting modes include C (Custom), M (Manual), Av (Aperture priority), Tv (Shutter speed), P (Program), Hybrid Auto, Auto, Creative Shot, SCN, and Movie. Scene modes available are Self Portrait, Portrait, Star, Handheld NightScene, High Dynamic Range, Nostalgic, Fish-eye Effect, Miniature Effect, Toy Camera Effect, Background Defocus, Soft Focus, Monochrome, Super Vivid, Poster Effect, and Fireworks. Movie mode presents additional options of Standard movie, Short Clip, Manual movie, and iFrame movie. Star modes available are Star Portrait, Star Nightscape, Star Trails, and Star Time-Lapse Movie. White Balance options are Auto, Day Light, Shade, Cloudy, Tungsten, Fluorescent, Fluorescent H, Flash, Custom 1, and Custom 2.
The swivel and rotate LCD brilliantly hides the connecting cables unlike tilt-only screens seen in some other cameras
The camera can shoot continuously at approximately 5.9 frames per second in Auto and P Mode (only at  low resolutions). Still images can be recorded in JPEG or Raw format with maximum dimensions of 5472 x 3648 pixels, while videos are recorded in MP4 format at the best quality of 1920 x 1080 at 30fps. The camera allows you to record clips for a maximum length of approximately 40minutes.
The G5X uses a 0.39 inch, approx. 2,360,000-dot electronic viewfinder. The LCD screen is a 3.0-inch, variangle capacitive touch panel with approximately 1,040,000-dot resolution and a wide viewing angle. The screen can be swivelled up to 180 degrees and rotated up to 270 degrees. The camera uses an SD/SDHC/SDXC memory card for external storage. Other features of the camera include Wi-Fi, NFC, and USB charging.
The camera is powered by a rechargeable NB-13L battery pack (supplied). The G5X has dimensions of 112.4 x 76.4 x 44.2 mm (W x H x D) and weighs 377g including battery and memory card.