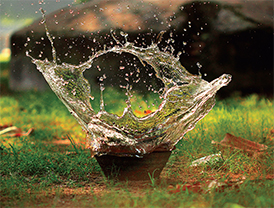 An engineer by profession, Manvir Singh is a based in Ludhiana. He has tried his hand at several genres in photography during a very short period of time. He loves playing with light and his stream of work contains several beautiful sunrise and sunset images.
As told to Tanika Godbole
Splash Up                                                                Dragonfly in the rain
I am a software engineer by qualification. I completed my graduation in 2011 and started working as a freelancer graphic designer and web developer. During my school days, I used to click and edit photos clicked from a Nokia 2MP phone camera. I got my first Coolpix digital camera after my graduation, as a birthday gift from my parents. I started taking photos of nature and other random objects with it, and also started following some good photographers in my city. This developed a great interest in me. These experiments continued for two years, till I got my first Canon D-SLR camera.This was when I completely fell in love with nature and macro photography.
Streaming Light                                                  Cruising down the road
Except for wildlife photography, I have tried most genres of this art. The more you experiment, the more you will get to learn. I have done portraits, nature, macro, automobile and products shoots. But I still have lot more to discover. I enjoy capturing the sunrise and sunset, clouds and beautiful landscapes.
Early get together                                                Winter walks
I love to play with natural sunlight during the golden hours. So I have a tendency to shoot outdoor portraits only in the morning or evening. I don't like shooting in the hard sunlight or during the noon hours when the sun is directly above the subject. A creative eye is the most important tool in photography. For my nature or landscape shots, I sometimes keep the D-SLR in the bag and use my Galaxy Note 2 phone camera. Yet, I get very good results.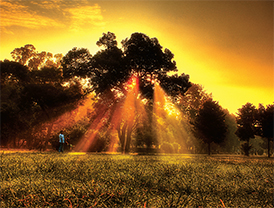 Sunrise in the garden
To budding photographers I would say—keep clicking and keep on experimenting. It is a very creative field and there are lots of exciting things to discover. Don't think of getting expensive cameras or lenses during the initial stage. Try to expand your creativity with normal cameras or even mobile cameras. Photography will definitely change your way of looking at your surroundings.