Sharp Business Systems (India) Pvt Ltd has launched its professional display series at InfoComm 2018. With a vision of "Changing the World with 8K", the company launched its 8K professional display during the event.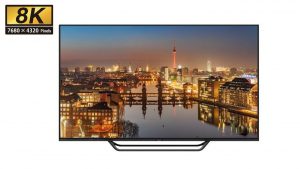 The top-end model, LV-70X500E adopts an 8K high-resolution LCD panel with 16 times the resolution of Full-HD. In addition to its 8K high-resolution panel, which displays images with realism not possible with 4K panels and in detail indiscernible to the naked eye, this monitor incorporates Sharp's wealth of ultra high-resolution monitor technologies for high brightness and wide colour gamut.
Detailing more about the trend-setting technologies and the featured products at InfoComm 2018, Shinji Minatogawa, Managing Director, said, "SHARP is committed to offering quality products to the market and also in contributing towards minimizing the environmental burden. We believe that 8K will revolutioniSe the society, the future of technology and expand various applications all over the world. As a result, we are excited to bring our innovative 8K technologies to the InfoComm, India this year".