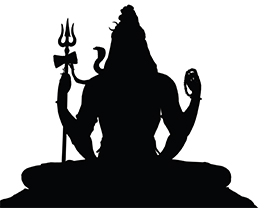 A look at some interesting Shiva statues and temples across India.
R Srinivasan
Recently Hindus across India celebrated Mahashivratri (See box for significance). Of all the gods in the Hindu pantheon, 'Shiva, the destroyer', is considered to be one of the most impressive. Let us begin with some famous sitting Shiva statues and then take a glance at some interesting Shiva temples in India.
Murudeshwara temple in Karnataka – The Murudeshwara Shiva statue is 123 feet in height, supposedly took about two years to build, and is the second tallest Shiva statue in the world with the Kailashnath Mahadev statue of Nepal considered to be the first. Murudeshwar is another name of Shiva. During the Ramayana, the gods conspired to prevent the demon king of Lanka, King Ravana, from gaining immortality after getting the Atmalinga (soul of Shiva). Realising he had been tricked, Ravana tried to destroy Atmalinga and a part of it took the shape of a cow's ear giving the place its name of Gokarna where 'Gau' means cow and 'Karna' means ear. Visitors could take the lift to the last floor of the 20-storeyed gopuram (pagoda) from where they could get a breath-taking view of the massive Shiva, which is surrounded on three sides by the azure blue Arabian Sea.
Siddhesvara Dham in Sikkim – Siddhesvara Dham is 5 km from Namchi where the words are derived from Nam (sky) and Chi (high). Here a 108 feet tall statue of Shiva in a sitting posture, replicas of the 12 Jyotirlingas and an 18 feet tall statue of Kirateshwar can be seen. It is said that Arjuna took the blessings of Shiva who appeared before him as a hunter (Kirateshwar) and so the Pandavas won the Mahabharata war against the Kauravas. Namchi, about 80 km from Gangtok and Siliguri, is well connected to other towns in Sikkim and West Bengal.
Shivagiri statue in Karnataka – The 85 feet tall and 1,500 tons Shiva statue made of steel and cement at Bijapur in Karnataka is around 3 km from Bijapur City on the Ukkali Road. It supposedly took over a year to construct and was unveiled in 2006. Interestingly, 'Shiva Charite' i.e. mythological tales about Shiva are to be engraved on the temple walls for the benefit of devotees.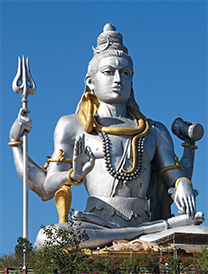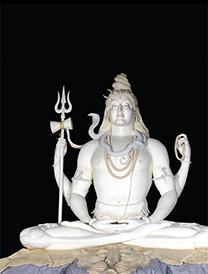 Nageshwar statue in Gujarat – At about 82 feet, the statue in a sitting position is one of the major attractions of this temple in Dwarka, Gujarat, which incidentally is also one of the 12 Jyotirlinga shrines. There are direct buses from Jamnagar and Ahmedabad. Dwarka is on the Ahmedabad-Okha broad railway line and can also be accessed from Ahmedabad (471 km) and the nearest airport is Jamnagar (137 km).
Kachnar City temple in Madhya Pradesh – Towering above people at 76 feet, the statue is located at Kachnar City, Jabalpur, in Madhya Pradesh. During 'Shivratri' when visitors come in hordes, a jet of water spots from the matted hair of a seated and serene Shiva statue, symbolizing the descent of the holy river Ganga from heaven to earth. (For the significance behind Shiva symbolism see box).
Kemp Fort in Bangalore – The 65 feet tall statue near Kemp Fort and Murugeshpalya in Bangalore is considered to be the world's sixth tallest statue of Shiva. Devotees will be pleased to know that this temple, unlike many other temples, is kept open for 24 hours. Below the statue, there are replicas of Shiva lingas and one of them here is made of ice like the one at Amarnath. The overall atmosphere, with Shiva seated in a lotus posture and meditating, is akin to seeing Shiva in Mount Kailas with the sky as a backdrop.
Bhanjanagar in Odisha – The over 60 feet tall statue, considered to be the seventh tallest Shiva statue in India, is situated near the Bhanjanagar water reservoir in Odisha and the only park in that state with a toy train facility.|SP
Significance of Mahashivratri
The day before the new moon is known as 'Shivratri' and there are totally 12 in a year. The one in February-March called 'Mahashivratri' is considered most auspicious since it is claimed that there is a boost in human energy and that on this night we tend to be more spiritually inclined which is why many consider it apt to remain awake throughout the night and soak in the natural boost of energy.
The 12 Jyotirlinga temples
The 12 holy jyotirlinga (Jyoti meaning radiance and linga is the vertical rounded column representing him) temples that symbolise Shiva's infinite nature are listed below.
Jyotirlinga                                                           Location
Somnath                                                            Gujarat
Mallikarjuna Swamy                                             Andhra Pradesh
Mahakaleshwar                                                   Madhya Pradesh
Omkareshwar                                                     Madhya Pradesh
Kedarnath                                                           Uttarakhand
Bhimashankar                                                      Maharashtra
Kashi Vishwanath                                                 Uttar Pradesh
Trimbakeshwar                                                    Maharashtra
Vaidyanath                                                          Jharkhand
Nageshwar                                                          Gujarat
Ramanathaswamy                                                Tamil Nadu
Grishneshwar                                                       Maharashtra
Significance of Shiva symbolism
Apart from the spiritual angle, elements of Shiva statues have a symbolism for daily life. The crescent moon in his matted locks symbolize the waxing and waning of the moon i.e. the beginning to the end. The venomous cobra around his neck like an ornament depicts the Kundalini Shakti or dormant coiled serpentine power which every individual possesses and could unleash through the practice of yoga. His trident weapon shows will, action and knowledge – the power to dispel evil and ignorance. Where the tiger is a symbol of lust, his being seated on a tiger skin means control of lust. The deer near Shiva, which represents a quicksilver mind shows a calm thought process. Shiva rides a bull, denoting that he is the protector of Dharma or right conduct. Even his representations have meaning – as 'Dakshinamurthy' he is a teacher of yoga, music, and wisdom and as 'Ardhanarishwara' where one half of his body is male and the other half is female, is symbolic of a perfect marriage.
Panchabootha Sthalams
The Panchabootha are five elements such as earth, water, fire, air and sky. The five temples located in South India, signifying his manifestation in each of these five elemental substances, are: Ekambareswarar temple in Kanchipuram representing earth in Tamil Nadu (TN), Jambukeswarar temple representing water at Thiruvanaikaval in Trichy (TN), Arunachaleshwarar temple representing fire in Thiruvannamalai (TN), Srikalahasti temple representing air in Kalahasti (Andhra Pradesh) and Thillai Nataraja temple representing the sky in Chidambaram in TN.