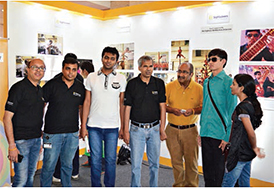 Sightsavers—a development organisation that works to prevent avoidable blindness along with advocating equal rights for people with disabilities— organised a photography exhibition at the Inorbit Mall (Malad), Mumbai. The featured photographs were clicked by visually impaired photographers. This exhibition was a part of 'The Blindview Campaign'—a photography workshop for the visually impaired photography enthusiasts in association with Beyond Sight Foundation. This was supported by Her Highness Sheikha Arwa Al Qassimi—a member of the Dubai royal family.
On the successful completion of the workshop, 20 pictures portraying 7 various themes were selected. These pictures showed a visually impaired photographer depicting an aspect of the blind experience photographed by another blind photographer. A story unfolded in each picture.
The event also had people signing Sightsavers' petition on change. org, which stated that public transport, media and printed material, goods and services become a lot more accessible to visually impaired people. This petition will be submitted by the organisation to the Ministry of Social Justice and Empowerment, Government of India.
Amal Gupta, Senior Manager, Brand and Communications, Sightsavers said, "This exhibition is our effort to showcase the glimpses of the life of a blind person – how they perform their daily chores, how theycommute to office and so on…"
One of the photographers, Bhavesh Patel added, " We are a part of this society and 'Sympathy' is not what we are asking for. We just want to be treated like any other normal human being in the society. This is a great platform to let people take a look at our 'Vision'."