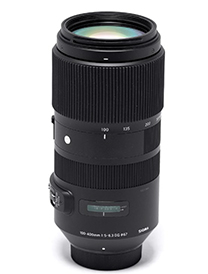 The 100-400mm focal range is much sought after by all nature and wildlife lovers. All the major manufacturers have such a lens in their range. With us this month is Sigma's 100-400mm f/5-6.3 DG OS HSM Contemporary. In recent times, every Sigma lens tested by SP has been special. Will the 100-400 repeat the success?
Design & Build Quality
The Sigma 100-400mm f/5-6.3 DG OS HSM Contemporary is a compact zoom lens designed for full-frame cameras but can be used with APS-C sensor models, with an equivalent focal length increase of 1.5x for Sigma (SD1 Merrill) and Nikons, and 1.6x for Canons. The external body is made from Thermally Stable Composite material and the build quality is superb; so is the finish. The lens is suitable for sports, wildlife and travel photography but with its maximum magnification of 1:3.8, can be used for close-up photography. The filter size is 67mm. The lens is made in Sigma's facility in Aizu, Japan, and is available in Sigma, Canon and  Nikon mounts. The lens we received for review had a Nikon mount.
Key Features
Let us first compare the Sigma 100-400mm f/5-6.3 DG OS HSM Contemporary (C) with the latest versions of its nearest competitors:
Canon: EF 100-400mm f/4.5-5.6L IS II USM
Nikon: AF-S Nikkor 80-400mm f/4.5- 5.6G ED VR