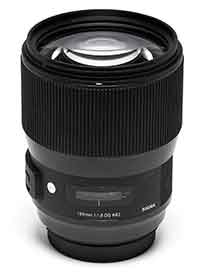 The 135mm, being an Art-series lens, certainly has a reputation to keep. 135mm can rightly be considered an essential focal length in the 'true' telephoto range. This telephoto range produces just the right amount of compression effect for portraits and still life. Combined with a wide aperture, this Art lens is believed to deliver shallow depth-of-field along with pleasing bokeh.
Design and Build Quality
Sigma Art series lenses are ruggedly constructed with dust and splash proof design. The outer shell is made of metal, complete with a tough matte-finished engineering plastic neck housing the focus and focus limiter switches. The mount is made dust and splash-proof by the use of a rubber ring that tightly seals the interface. The mount is made of brass and is treated for enhanced strength and durability. The lens has a focus distance window. The 135mm Art lens has threading for an 82mm filter. The lens measures 91.4mm (dia) × 114.9mm (length) and weighs 1,130g. Sigma supplies a rugged and well-made hood with the lens.