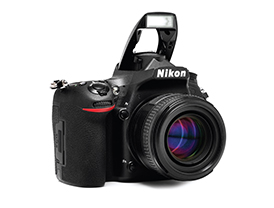 The 24.3 megapixel Nikon D750 was introduced during Photokina 2014 (16th-21st September) as a go-between the expensive 36.3 megapixel D810 and the less expensive 24 megapixel D610. Incidentally, the D750 is the third full-frame D-SLR from Nikon  in recent times. So why have yet another model, and that too, so soon aft er the other two? Well, some users felt that the D810 was too expensive, while others felt the need to have some more 'oomph' than available in the D610. Read on to know what we feel about the D750…
Design & Build Quality
The D750 is the smallest and probably the lightest D-SLR body in the Nikon stable. It is also the first Nikon to have a monocoque body (it employs an encased structure that does not require a separate chassis). The top and the rear cover uses magnesium for durability and carbon-fibre for front body and front cover, thus also reducing weight while maintaining strength. Th e synthetic-leather-covered hand-grip is nice and deep. The body is well-built and looks sleek and weighs approximately 830g with battery and memory card.
Key Features
Let's fi rst see the key differences between the D750 and the D610: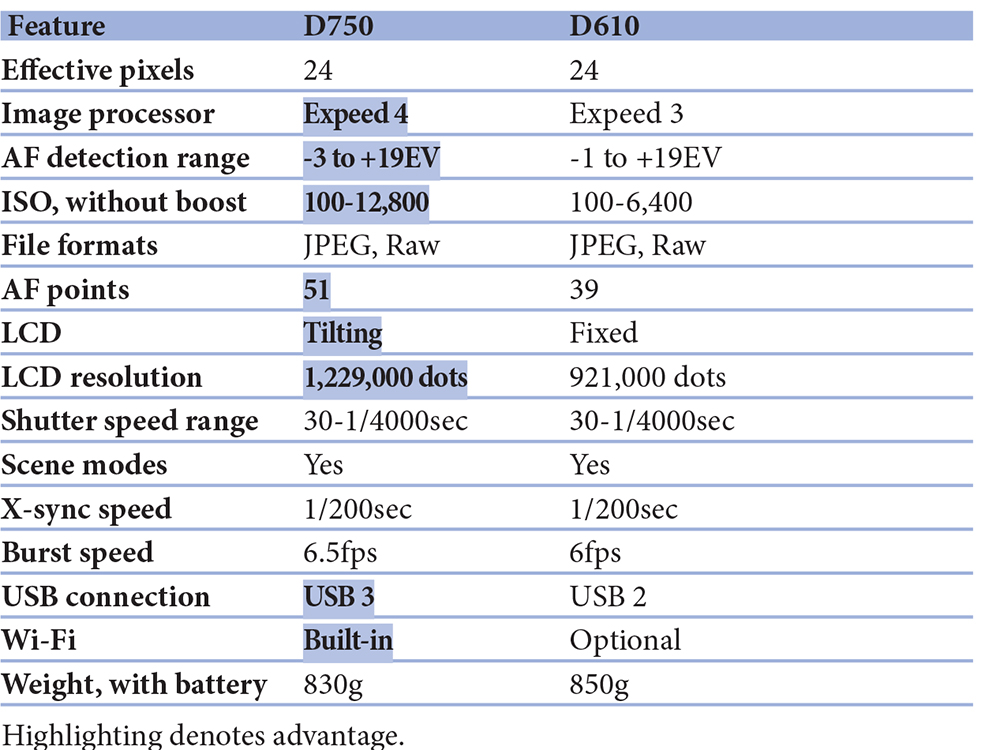 As you can see, there are diff erences between the D750 and the D610, some signifi cant, some not so. To me, the main diff erence is the Expeed 4 image processor (along with a newly developed sensor), which of course should provide overall better image quality. Also, looking at the specifi cations, the D750 should be able to autofocus (in theory at least) in much lower light than the D610. Incidentally, -3EV (see 'AF detection range', above) equates to lighting conditions where you would have to expose for 15 seconds at f/1.4 at ISO 100. If the camera can autofocus in such low light, that's good! Really good! However, I am not much enamoured by the 51 AF points; don't get me wrong, under certain situations the extra AF points are useful, but for the majority of times, I use the central AF point (and I trust most of you do too). The D750 has a tilting LCD screen. For low-angle shots, the screen can be fl ipped up to approximately 90 degrees and for high-angle shots, it can be tilted outwards from the body by about 75 degrees.
The D750 is a 24.3 megapixel (eff ective) full-frame sensor (35.9 x 24mm) D-SLR but also offers shooting facility with the following crop factors:1.2x (approximately 30 x 20mm area at the center of the sensor is used. Resolution drops to approx. 16.7 MP) and 1.5x (DX, approximately 24 x 16mm area at the center of the sensor is used. Resolution drops to approx. 10.3 MP). Like all Nikon D-SLRs, the D750 too off ers automatic image sensor cleaning facility. Images can be shot in NEF (Raw) 12-bit or 14-bit, lossless compressed or compressed, JPEG (Fine/Normal/Basic), and Raw+JPEG. Its Buffer size allows approximately 85 JPEGs (Large/Fine) or 15 NEFs in 14-bit lossless compressed mode or about 25 NEFs in 12-bit lossless compressed mode or 32 NEFs in compressed mode (these fi gures would change, depending on the memory card used). To satisfy individual preferences, the D750 off ers the following Picture Controls: Standard, Neutral, Vivid, Monochrome, Portrait, Landscape and Flat. Picture Controls can be modifi ed and Customised Picture Controls can be stored. The following lenses can be used: AF Nikkor lenses, including type G, E and D (some restrictions apply to PC lenses), DX lenses, AI-P Nikkor lenses and non-CPU AI lenses (A and M modes only). IX Nikkor lenses, lenses for the F3AF, and non-AI lenses cannot be used. The camera uses an electronically controlled, verticaltravel focal plane shutter with shutter speeds ranging from 30 seconds to 1/4000sec, plus Bulb, Time and Flash X-sync at 1/200sec. (Actually the D750 can synchronize with flash at shutter speed of 1/250sec or slower but the fl ash range drops at speeds between 1/200 and 1/250sec).
Metering system is TTL using an RGB sensor with 91,000 pixels. Metering modes are Matrix (3D Colour Matrix metering III with type G, E and D lenses, Colour Matrix Metering III with other CPU lenses, Colour Matrix metering with non-CPU lenses if user provides lens data; Center-weighted metering (75% weightage given to the 12mm circle in center of the frame); Spot metering (4mm circle centered on selected focus point) and Highlightweighted metering with type G, E and D lenses. Exposures can be compensated in values from -5 to +5 EV. ISO sensitivity available is from ISO 100-12,800 but can also be set to approx. 0.3, 0.5, 0.7 or 1 EV (ISO 50 equivalent) below ISO 100 or to approx. 0.3, 0.5, 0.7, 1 or 2 EV (ISO 51200 equivalent) above ISO 12800; auto ISO sensitivity control is also available.
White Balance (WB) can be set to Auto (3500-8000K), Incandescent, Fluorescent (7 types), Direct sunlight, Flash, Cloudy, Shade, Colour Temperature, and Preset manual. WB can be fi ne-tuned if required. Active D-Lighting, which preserves details in highlights and shadows in contrasty lighting, can be set to Auto, Extra high, High, Normal, Low or off. The D750 uses Nikon's Advanced Multi-CAM 3500 II AF module with TTL phasedetection along with 51 focus points. 15 of these are cross-type sensors, out of which 11 sensors support lenses up to f/8. Autofocus can be set to AF-S (Single-servo AF), AF-C (Continuous-servo AF) or AF-A (automatic selection of AF-S/ AF-C, depending on the status of the subject). Manual focussing is available. Focus can be selected from 51 or 11 focus points. Five AF- area modes are available: Single-point AF, 9, 21 or 51-point dynamic area AF, 3D-tracking, group-area AF, and Auto-area AF.
At the top left of the body is the Mode Dial, along with a Mode Dial Lock (a safety feature so that you don't change the shooting mode unintentionally). The modes available are: Auto, and Flash Off – using these your D750 becomes a high-end point-and-shoot camera (Actually, both are identical except that if you opt for the Flash Off setting, the flash will not fire); SCENE (the camera automatically optimises the settings to suit the selected scene); U1 & U2 (the user can assign frequently used settings to U1 and U2); Effects (Night vision, Colour sketch, Miniature effect, Selective colour, Silhouette, High key and Low key), and the regular P, A, S, M modes for the advanced photographer.
Underneath the Mode Dial, is the Release Mode Dial (also with a safety lock), which allows you to choose between S (Single frame), CL (Continuous low), CH (Continuous High), Q (Quiet shutter release), QC (Quiet continuous shutter release), Self-timer and MUP (Mirror up). In Continuous low speed shooting, the user can select between 1- 6fps with maximum continuous release up to 100 frames; in Continuous high speed shooting, the frame rate is 6.5fps (but could slow down if there is not enough memory in the buffer or if the shutter speed is slower than 1/200sec).
The D750 offers a built-in flash with a Guide Number of 12m/39ft at ISO 100, along with the usual flash features. Flash control is i-TTL using RGB sensor with approx. 91,000 pixels. i-TTL balanced fill flash for digital SLR is used with Matrix, Center-weighted and Highlightweighted metering; with Spotmetering, i-TTL flash for digital SLR is used. Flash can be compensated by -3 to +1 EV in steps of 1/3 or 1/2 EV. The camera supports Nikon's Creative Lighting System.
The D750 can record Full HD movies at 1920 x 1080 – 60p, 50p, 30p, 25p, and 24p; 1280 x 720 – 60p and 50p, using H.264/MPEG-4 video compression. The camera uses a rechargeable EN-EL15 Lithiumion battery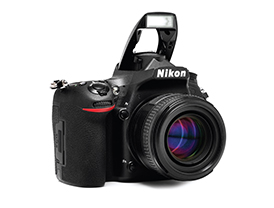 Ergonomics
The D750 was reviewed using a AF-S Nikkor 50mm f/1.4G lens. The balance was perfect and the user interface was as easy as it is on all Nikon D-SLRs. The tiltable LCD screen was very convenient for low-angle / high-angle shots.
Performance
Overall, the D750 performed to our satisfaction. Images were sharp and punchy. We were most impressed by its control over digital noise. The native image size was 20.053 x 13.387 inches at 300 ppi. At 25% screen size, images were perfectly usable all the way up to ISO 12,800. At 50% screen size, once again images were perfectly usable all the way up to ISO 12,800 though at ISO 12,800, images were slightly 'soft', probably due to the internal noise reduction kicking in rather vigorously. At 100% screen size, when observed carefully, some noise could be seen at ISO 800 and upwards; images were slightly 'soft' but I wouldn't hesitate using the images all the way till ISO 12,800. The 'Lo' ISOs: Lo 0.3, 0.7, 1.0 (equivalent to ISO 80, 64, and 50 respectively). At these equivalent ISO sensitivities, I found it difficult to notice any visible differences between the images. All three were excellent.
The 'Hi' ISOs: Hi 0.3, 0.7, 1.0, 2.0 (equivalent to – approximately – ISO 16,000, 21,000, 25,600 and 51,200 respectively). At 25% screen size, Hi 0.3 and 0.7 were 'clean' and usable, 1.0 had some noise and 2.0 could be used in an emergency. At 50% screen size, Hi 0.3 was good, 0.7 usable, but 1.0 and 2.0 were noisy. At 100% screen size, all four – Hi 0.3, 0.7, 1.0 and 2.0 – were noisy. In White Balance performance, AWB and Preset WB (Sunlight) were accurate while under all other lighting situations, a slight colour cast was noticed, which could be easily corrected in post-processing. Autofocus was fast, even in low light. Exposure metering was quite accurate. The Highlight-weighted metering ensured that the highlights were not overexposed, but it did that at the expense of underexposing the pictures by about 0.7 to 1 stop (a rough judgement). Images on the LCD and in the viewfinder were crisp. Prominent darkening of corners was noticed at f/1.4, which improved at f/2 and was negligible by f/2.8.
Video
The video performance of the Nikon D750 was excellent. On a side-by-side comparison with one of the latest 4K compatible mirrorless interchangeable lens cameras, we noticed that it autofocussed quicker (in AF-C mode) during video in Live View. The videos did not capture any focussing sound, which is good.
Value for Money
The Nikon D750 body is available at an MRP of Rs.1,34,450. We consider this to be fair to good value for money
 PLUS
• Small and lightweight
• Excellent noise control
• Built-in Wi-Fi
• Tiltable LCD
MINUS
• Will the monocoque body stand up to rough handling?
FINAL SCORE                                              83%
Design and Build Quality                             16/20
Key Features                                              17/20
Ergonomics                                                17/20
Performance
Autofocus                                                      4/5
Metering                                                        4/5
Noise Control                                                  5/5
Sharpness                                                      4/5
LCD/EVF                                                        4/5
Auto W/B                                                        4/5
Sub-Total                                                       25/30
Value for Money                                                8/10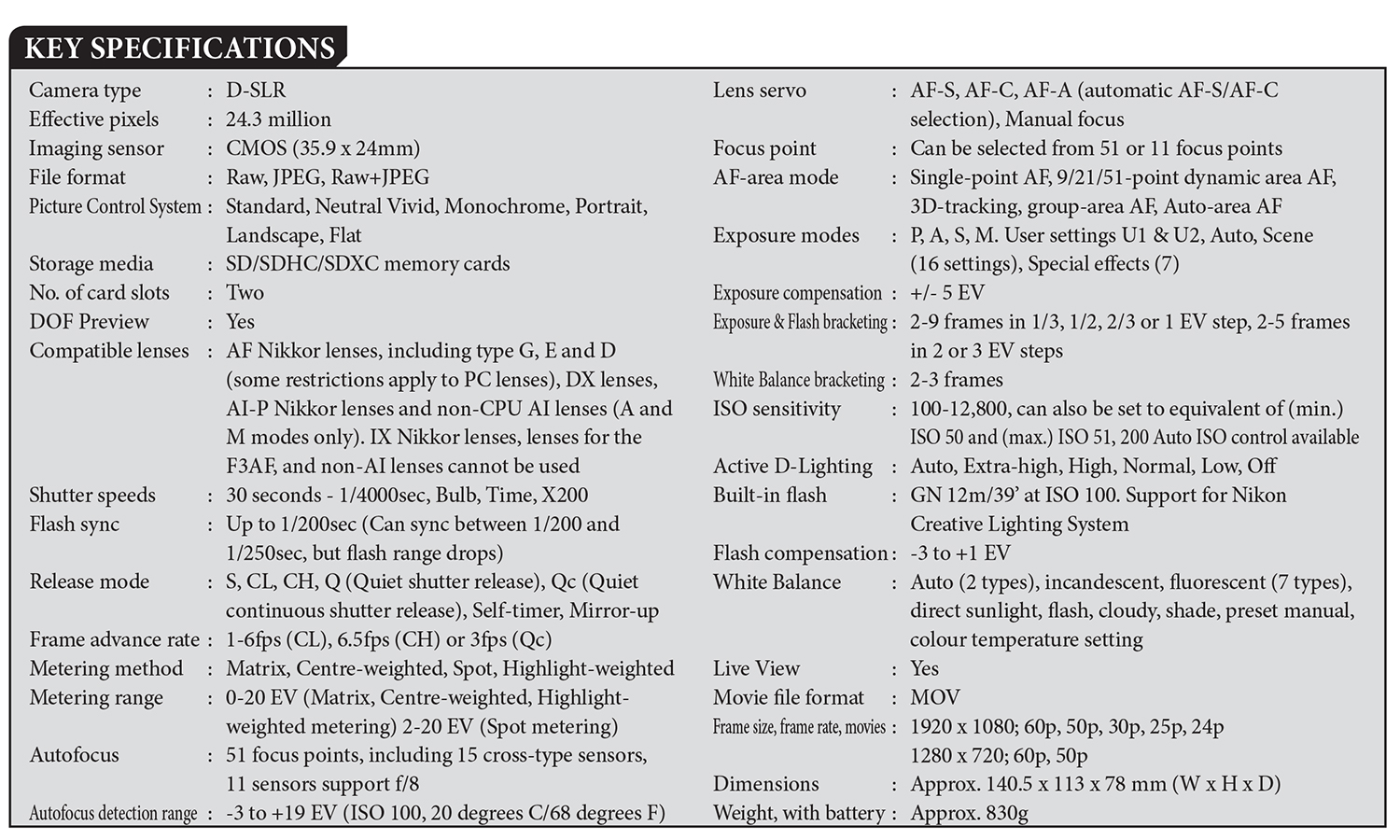 VERDICT
Should you go in for a D750 if you already own a D610? That's not easy to answer, but for me, the Expeed 4 image processor would draw me towards the D750. If you want a full-frame camera body, that also includes 1.2x and 1.5x crops, a better resolution LCD, a camera capable of autofocussing in very low light, and the advantages of USB 3 connection, then the D750 may be what you should be looking at. Best Buy!