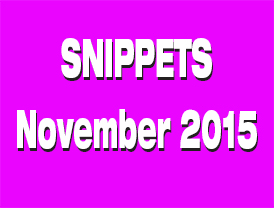 Instagram—owned by Facebook— has crossed more than 400 million users. The company has added at least 100 million users in the last nine months, of which nearly 75% of its users are based outside of the United States. eMarketer—a research firm— has estimated that Instagram's ad revenue will touch about $1.5 billion in 2016 and $2.8 billion in 2017. This year, as per predictions, the company will make nearly $600 million.
In a new development, Facebook has announced that users will soon be able to enjoy 360 degree videos in their newsfeed. These videos are created by a special set of cameras that simultaneously record a scene from all angles. The angle of viewing can be changed in the video by simply clicking and dragging the cursor on a screen or by swiping the screen on smartphones. Users can also tilt their phones to change the viewing angle. This feature will be rolled out for iOS phones in the coming months whereas Android users need not wait too long. The company has promised a one of its kind visual experience with this feature.
Sony has built its steady position in the image sensor industry by supplying superlative image sensors to digital camera and smartphone manufacturers with a 40% share in a market of $8 billion.This year, the company has quadrupled its investment into semiconductors to $2.4 billion to meet the rising demand for its sensors from customers like Apple and Samsung Electronics.