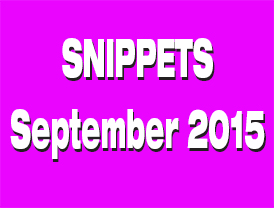 Schneider Kreuznach has announced that they are not venturing into the Micro Four Thirds lens market. The company also stated that they have discontinued the production of compact cameras. Schneider Kreuznach will be focusing on the automotive, security and medical technology industries.
A new web series has been created by Nikon. It comprises of 48 episodes of D-SLR tutorials, which deal with di erent techniques and advantages of using a D-SLR simultaneously eliminating myths. These videos are divided into 24 tutorial videos in Hindi and English each. They focus on various genres of photography. A DVD of these videos will be included in every sales pack of D-SLR cameras. Over 24 lakh views have been noted for these videos on YouTube.
Razer has added to the immersive gaming experience by unveiling  a 3D-sensing camera at the Intel Developer Forum. The device makes use of Intel's RealSense to keep a tab on movement in games whether the  gamer is using a desktop or sporting a VR helmet. It can keep a track of head movements and a lot more details, which will be revealed once the camera arrives approximately in the first quarter of 2016.