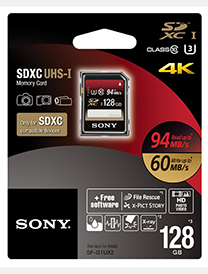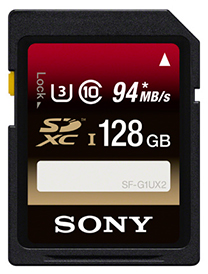 Sony India announced the launch of its new Ultra High Speed UX series SD card (SF-G1UX2/T IN), with fast data transfer speed and 4K compatibility. It is ideal for professional or semiprofessional photographers and videographers. The card offers enhanced transfer speeds, thereby increasing the speed of workflow and improving efficiency.
The UX Series 128GB card comes with data transfer speeds up to 94MB/s (read) and up to 60MB/s (write). It also features an Ultra-High Speed (UHS Speed Class 3) rating so that speed and quality of the images captured will not be compromised, which results in smooth 4K recordings as well as minimal buffering when capturing still images in burst, multiframe or panoramic modes. This card is also compatible with XAVC S codec mode recording. Like other products from the line-up, the new memory card features Sony's File Rescue software, which is the first in the world to support 3D movies and photos. This software allows users to recover accidentally deleted photos and movies. Protected with molded resin, the memory card is remarkably durable, shockproof and resistant to extreme temperatures.
The UX series SD Card is  available across all Sony Center and major electronic stores across India for the price of Rs.13,200.