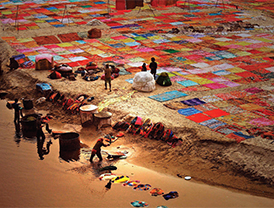 Last year's winning image by Bisheswar Choudhury,
1st Place, India National Award, 2014
Sony World Photography Awards
On November 7, 2014, Sony World Photography Awards along with Sony Asia Pacific launched the 'India National Award'. This competition invites entries from Indian nationals of all ability levels. Entries are free via www.worldphoto.org, and participants can enter under any of the ten categories: Art and Culture, Architecture, Enhanced, Low-light, Nature and Wildlife, Panorama, People, Smile, Split Second and Travel. The winner of the India National Award will be chosen from entries to the Open Competition of the 2015 Sony World Photography Awards taken by Indian nationals. The competition will close for entries on January 5, 2015, and the winner will be announced on March 18, 2015.
The winning photographer will receive the latest photographic equipment from Sony, while two runners-up will also receive prizes. All three photographers will have their work displayed alongside professional photographers from around the globe as part of the 2015 Sony World Photography Awards Exhibition held in London from April 24 to May 10, 2015 and showcased online at www.worldphoto.org.
Scott Gray, Managing Director of the World Photography Organisation said, "We are thrilled to be able to work closely with Sony Asia Pacific to identify the local photographers that are producing great work and pushing their own creative boundaries, so that we can raise their profile across the globe and provide inspiration to other budding Indian photographers."
Masaaki Hori, Head of Digital Imaging Business, Sony India commented on the occasion, "The National Awards are a great vehicle to recognise talent on a regional basis and it's extremely interesting to see the different styles emanating from India. We want to support these national talents and provide them with the best cameras and lenses so that they can focus on the creative subjects in front of them."