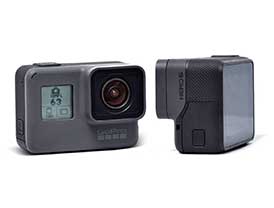 GoPro recently unveiled their flagship Hero6 Black. The device looks exactly like the Hero5 Black, except for a new logo on the power/mode button and the model name written at one side. In fact, if you hold and operate both the devices together, you are unlikely to see the difference till the time you transfer and view the footage. Here is a preliminary run-through of the device.
Though the GoPro Hero6 Black looks and feels like its predecessor, it is a different machine at the core. While the Hero5 Black used an Ambarella A9SE7 processor (dual core ARM Cortex A9), the new Hero6 uses a custom-designed GP1 SoC developed in partnership with Socionext. The new image signal processor delivers rich colours along with better dynamic range and low-light performance. The processor has also improved the computer vision and machine learning capability of the camera, enabling the device to analyse visual scenes and sensor data for improved automated QuikStories. The device allows you to capture 4K videos at 60fps and 1080p at 240fps, all with an advanced 3-axis video stabilisation (digital). This means smoother 4K and superslow motion Full
HD videos. GoPro has adopted High efficiency Video Coding (HEVC, H265) for video compression, which paves the way for smaller files at the same quality.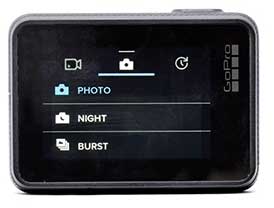 GoPro has added a pinch-to-zoom functionality to the Hero6 Black. The camera now facilitates faster file transfer on Wi-Fi. The Hero6 Black is as rugged and waterproof (up to 10m) as the Hero5 Black and is compatible with all accessories of the latter. All the advanced features of the Hero5 remain, including Raw and HDR photo, voice control, GPS, Accelerometer, Gyroscope and Wi-Fi + Bluetooth connectivity. Both the cameras are 12-megapixel models too.
The Hero6 Black measures 62 x 44.6 x 32.7 mm and uses the same 1220 mAh battery of the Hero 5 Black. The camera has a Micro HDMI port, a USB-Type C port and a microSD card slot. The Hero6 Black retails at an MRP of INR 45,000 and is available at Reliance Digital. |SP