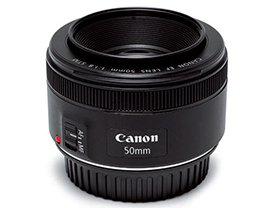 A fast normal lens is what every advanced photographer would like to have in his kit. Being close in magnification to the human vision, these lenses offer a perspective as close to the human eye as possible. These are versatile and can be used for most imaging needs that do not require extreme angles of view.
The Canon EF 50mm f/1.8 STM lens is an upgrade to the 50mm f/1.8 II, which has been in existence for close to 15 years. The new stepper motor is believed to provide fast and silent autofocus while full-time manual focus feature is certainly going to make life easy for the sticklers in critical focus.
Design and Build Quality
The Canon 50mm STM lens is built with a polycarbonate exterior. It has a metal mount unlike its predecessors, which had plastic mounts. The lens has a two-barrel construction. Apart from the autofocus switch, there are no controls on the lens. The focus ring is at the front of the outer barrel and is grooved for comfortable operation. The filter size is 49mm. The lens has dimensions of 69.2 x 39.3mm (Max. Diameter x Length) and weighs 159g.
Key Features
The EF 50mm f/1.8 STM lens incorporates a Stepper Motor (STM) to enable fast and silent autofocus. The lens is compatible with all EOS camera formats (EOS M with the help of an adapter). It is constructed with 6 elements in 5 groups. The lens has special coatings to reduce flare and ghosting. It has a 7-blade circular aperture that produces circular bokeh in shallow depth-of-ield images. The aperture ranges from f/1.8 to f/22. The lens also allows for full-time manual focus even in autofocus mode.
Ergonomics
The 50mm STM lens is compact and lightweight. The lens allows full-time manual focus, which is a pleasure to use. There is no Depth-of-Field scale or focal length window on the lens. The front element does not rotate, but it protrudes while focussing. The focus ring is quite comfortable to operate.