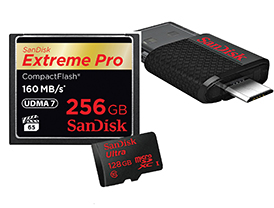 Storage devices have made vast advancements. It is becoming increasingly easier to save more multimedia on tiny storage drives that store large amounts of data. With a competitive market for the highest read, write and transfer speeds, it is no longer necessary to spend long periods of time transferring data. Some devices even ensure safe back-up options. More and more companies are targetting customers such as photographers, videographers and so on who need maximum space and have very little
time to spare.
SanDisk Extreme PRO Compact Flash Memory Card 256GB
Features:
World's first high-capacity card that supports VPG-65, the Video Performance Guarantee specification that ensures smooth 4K video recording as well as Full HD. It can operate in temperatures ranging from -13ºF (-25ºC) to 185ºF (85ºC), so you can record rich Full HD video or snap the perfect shot in almost any climate.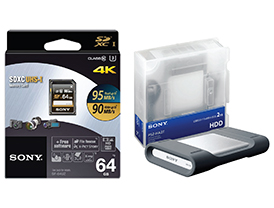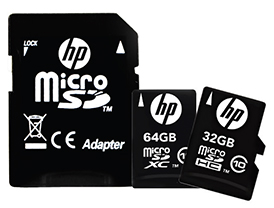 SanDisk Ultra Plus 128GB
MicroSDXC Card
Features:
The 128GB capacity card can accommodate up to 24 hours of HD video and the included SD adapter lets you move files easily among other SD compatible devices, such as digital cameras and computers. It is also waterproof, temperature-proof, x-ray-proof, and shock-proof.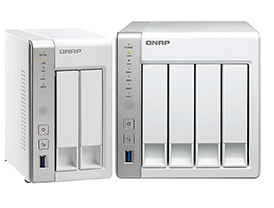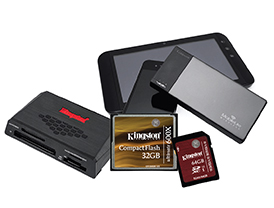 SanDisk Ultra Dual USB Drive
Features:
Offering up to 64GB of storage space, it provides enough capacity for large digital photo or music libraries. Compatible with Android Smartphones and Tablets and with PCs running Windows®XP, Windows 7, or Windows 8 or Mac computers running Mac OS X v10.5+.
Available at: Leading retail and online stores
Website: www.sandisk.in
HP TF Class 10 Micro SD Card 32G
Features:
Rated Class 10 which guarantees fast transfer speeds so you can quickly transfer & share while you're on the go. 2 years replacement warranty. High read performance – 32G: Upto 95MB/s. High write performance –
32G: Upto 23MB/s
Available at: Fortune Marketing Pvt ltd
Contact: +91-98717775914
Mail id: inderbhan.verma@fortune-it. com
Website: www.pny.com.tw/index.php
Sony PSZ-HA2T Portable HDD
Features:
Portable HDD has a memory capacity of 2TB (terabyte) with high speed transfer and multiple acess  point. It is also dust and splash proof.
Sony SF-64UZ/T1 IN and SF-32UZ/T1 IN
Features:
UZ series is water-proof, temperature-proof, X-ray-proof and dust-proof. The new memory card continues to feature the Sony File Rescue software, the first in the world to support 3D movies and photos.
Available at: All Sony Center and major electronic stores across india
Contact: 1800-103-7799
Mail id: sonyindia.care@ap.sony.com
Website: www.sony.co.in
QNAP TS-251 and TS-451
Features:
The TS-251 and TS- 451 provides a high performance & high capacity storage solution for SOHO & home, workgroup, and SMB users. Powered by the advanced QTS operating system, the TS-251 performs as an easy-to-use yet powerful NAS for data backup, file synchronization, remote access, home entertainment, and is ideal for users to build a personal cloud to access their data easily.

Contact : +91 9619070838
Mail id: sheetal@qnap.com
Website: www.qnap.com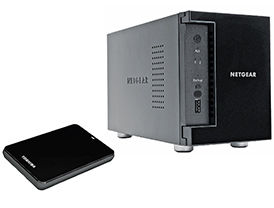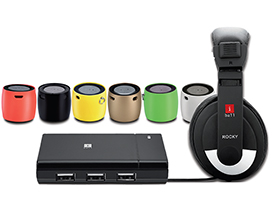 Toshiba 1TB/2TB
Canvio Simple
Features:
It comes in 1 TB and 2 TB and offers easy storage at Super and Fast transfer speed with easy plug-n-play operation.

Available at: Mumbai
Contact: +91 98679 55995
Mail id: polad.garda@ toshiba-india.com
RN10200 (NETGEAR)
Features:
It has unlimited snapshot for versioning data (hourly, daily and weekly). Also has cloud access to the data via ready CLOUD. It comes with 3 yrs warranty.
Available at: Rashi Peripherals Pvt Ltd.
Contact: +91-22-61771771
Mail id: harisha@rptechindia.com
Website: www.netgear.com
MobileLite Wireless
Features:
This wireless capable reader transfers files from your SD card & USB storage to a host of devices or systems like Tablets, mobiles, etc. It is more versatile i.e. it can be used with Smartphones, Tablets and PCs.
SDA3 UHS-I U3 Flash SD Cards
Features:
Ideal for high-performance D-SLR and D-SLM cameras and 4K camcorders. Has storage capacities from 16–64GB for thousands of photos and hours of video.
CompactFlash – Ultimate 600x (CF/16GB-U3)
Features:
The ultimate card for professional photographers with lifetime warranty, free technical support. Economical. Auto sleep mode preserves system battery life.
USB 3.0 Card Reader
Features:
The perfect companion for the avid photographer, videographer, design studio or printing house. It is compatible with all major media card types. It is also ultra-portable and has sleek metal construction.
Available at: Leading local stores
Contact: 022 42230300
Mail id: sales_india@kingston.com
Website: www.kingston.com
Rocky Univo
Features:
This headphone is compatible with all mobile phones and Tablets. It has specially designed switch suitable for all gadgets with 3.5mm jack for music and talk.
Combo 348 Card Reader
Features:
It is a combo of card reader and 3-port USB 2.0 hub. The top cover slides to carry memory cards. It has Micro SD, M2, SD and MS Pro slots.
LIL BOMB70
Features:
An Ultra-Portable Bluetooth speaker with MIC with voice prompt alerts and multimedia controls. Available at: Best IT World India Pvt. Ltd.

Contact: 30815001
Mail id: sales@iball.co.in
Website: www.iBall.co.in