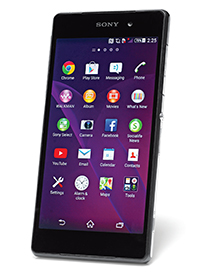 Premium Smartphones are trying to woo high-end users with new features and better  capabilities. For the budget-conscious general public, these are but sour grapes—desirable features, but at a very high price. The Sony Xperia Z2 is an upgrade to the Xperia Z1 and competes with the likes of Samsung Galaxy S5 and HTC One M8. Let us see how it performs.
Design and Build Quality
Sony products are known for their sturdy construction, and the Xperia Z2 is no di erent. It inherits the front and back glass body of the Z and Z1 along with being dust and water proof. The front glass material seems more scratch resistant than that of the Z1. The Z2 is a few millimeters longer than the Z1 and features the same aluminium frame that runs around its perimeter for enhanced protection. With an Ingress Protection rating of IP55/58, it is waterproof and dust resistant. is essentially means that the device is waterproof up to a depth of 1.5 meters for up to 30 minutes when all the covers for the slots are rmly closed. is is very important since a Smartphone's touchscreen is likely to  catch dirt and grime very easily, and there is no better way to remove it than washing it o . I have been doing this with my Z1 for over 6 months and it has never given me trouble from water ingress. The Z2, like the Z1, has magnetic pins to connect it to a Sony magnetic charging dock. Going by my experience with the Z1 and our test of a few competing brands, the Z2 is easily one of the best built Smartphones available in the market.
Key Features
The Sony Xperia Z2 is not signi cantly di erent from the Z1 we reviewed in January this year. The hardware is mostly the same, but Sony has enhanced the capability of the device to scale up to the competition. The Z2 uses a 2.3 GHz Qualcomm Snapdragon 801 (MSM8974AB) quad-core processor combined with an Adreno 330 GPU. It features 3GB RAM, up from 2GB on the Z1 and internal memory of 16GB. It can accept an external microSD card of up to 128GB. Additionally, it can connect with an external USB storage, which provides virtually unlimited memory. The device works on Google Android platform and is launched with Android 4.4 (KitKat) Operating System (upgradable to 4.4.4 at the time of review). The Z2 uses a 5-inch Full HD IPS Triluminos Display with X-Reality for mobile technology. The display has a resolution of 1920 x 1080 pixels, which translates to a pixel density of 441 pixels per inch. is helps to display pictures that are razor sharp and bright. It To ers multi-touch with support for up to 10 ngers. The X-Reality for mobile engine, adapted from Bravia televisions, analyses and selectively processes all images so that the correct amount of enhancement is applied. The display also features Live Colour LED, a new Sony technology that increases colour depth and gradation.
The display also has a wider viewing angle than conventional Smartphone displays. The Sony Xperia Z2 features the same 20.7-megapixel, 1/2.3-inch Type (6.16 x 4.62mm) Exmor RS for mobile sensor that was used in the Z1.
This high sensitivity sensor is believed to reduce digital noise while maintaining high resolution. The camera features a BIONZ for mobile processor, which aids in fast sutofocus, motion detection, and noise reduction.
The camera features a Sony G 27mm equivalent f/2.0 lens. It also features a pulsed LED light that can function as a camera light and a torch. The highlight of the Z2, however, is the capability of its camera to record 4K (3840 x 2160) Ultra High Definition videos. The camera features SteadyShot, which compensates for camera movements by boosting the sensitivity at the time of capture. The various pre-installed camera apps include Background defocus, Creative effects, Timeshift video, AR effect, Vine (video sharing app), Info-eye, Timeshift burst, Social live, and Sweep panorama. Background defocus allows you to retain focus on the desired spot, rendering the background (or foreground) out of focus. This provides a professional look to your photographs by simulating shallow depth-of-field. Creative effects app lets you apply different effects to the photograph such as Brightness/Contrast, Hue/Saturation, Mirror, Old Film, Motion effects, Mosaic, Motion trail, Nostalgic, Miniature, Vivid, Tint, Fisheye, Colour sketch, Pencil sketch, Comic, Partial colour, Harris shutter, and Kaleidoscope. In Timeshift video app, you can capture high-speed clips at 120 frames per second and then use the video editor to select and slow down one or more sections of the clip for creativity. AR effects mode adds fun animations to your photos and videos. If you use Info-eye to capture the image of an object, the camera will provide you relevant information about the object. With Timeshift burst, you can capture 61 frames in just 2 seconds, including a few frames before you press the shutter release button. You can then select the images you want to keep. The camera lets you download more features as and when they are released.
The camera also features Manual mode, which allows you to set various parameters such as White Balance, Exposure compensation, ISO sensitivity, and Metering. White Balance options are Auto,  Incandescent, Daylight, and Cloudy.
Exposure can be compensated up to +/-2 EV in 1/3-EV steps. Focus modes available are Single AF, Multi AF, Face detection, Touch focus, and Object tracking. ISO sensitivity can be set to ISO 50 to 800 or Auto.
Metering can be set to Centre,
Average, or Spot.
The Xperia Z2 is powered by a 3200 mAh embedded battery. For power saving, the device provides Stamina mode, which keeps the camera at a low-power state when the screen is switched off. The Z2 has dimensions of 146.8 x 73.3 x 8.2 mm and weighs 163 g.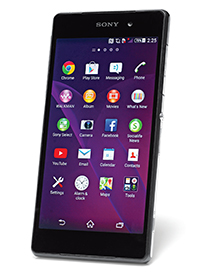 Ergonomics
The 5-plus inch screen of the Z2 is just right for most Smartphone users. It is not too small for typing and watching movies nor too big for making calls without handsfree or earphone. The screen is one of the best around — bright, lively and crisp. The colours too are close to reality. Even if you do not like the colours, you can tweak it easily in the settings. The large screen makes touch controls fairly easy to operate.
The phone has a dedicated camera button, and the camera interface is quite user-friendly. Though the screen might appear too dim outdoors, checking the 'Adapt to lighting conditions' checkbox solves the problem. Our only grievance is the over-sized power adapter that doesn't fit any Indian socket. Hope this is limited to the review unit supplied to us.
Performance
We were quite impressed by the Z2's performance. The powerful processor, combined with 3GB RAM and Adreno 330 GPU makes for a superlative performer. We tried all high-performance 3D graphics in the form of HD gaming and the Z2 performed brilliantly. Initially, the device heated up quite a lot, but the experience with the Z1 came in handy. If the device heats up much, the first step is to backup the data and do a factory reset from Settings. If this does not solve the issue, you may do a fresh software installation from the Sony support site via the desktop application.
This time, we used AnTuTu benchmarking software, and the Z2 scored a cool 34600, placing itself atb the third spot in overall processing power. In the battery test too, it came in the top three with the battery lasting over 3 hours with 100 percent CPU use. This is really top notch performance. The battery easily lasts for a day with moderate to heavy usage if you do not have a real time antivirus shield working in the background. Again, this depends on various factors such as GPS activation, mobile data usage, graphic intensive gaming and screen brightness.
Coming to the camera's performance, the Z2 performed very well. Images appeared crisp. Native image size was 13.12 x 17.49 inches at 300 ppi. At 25 percent screen size, we observed slight noise at ISO 800. Observed at 50 percent of the screen size, slight noise was observed at ISO 400 and above. At 100 percent screen size, though the camera produced noise at all ISOs, images remained usable up to ISO 200. We would consider this good noise control for a Smartphone camera using a tiny sensor. Also, we observed that the marked sensitivity of ISO 100 corresponded to a measured sensitivity (in EXIF data) of ISO 160. Auto White Balance performed well. Slight cast produced under artificial lighting could be easily removed in post-processing. The camera produced beautiful images in close-up. We would rate this above average performance for a Smartphone camera.
On the video front, the Z2 captured very good 4K videos. But this process utilizes a large part of the processing power and hence the device heats up. Sony has incorporated a safety, mechanism to shut down the camera when it reaches a threshold. This is quite normal. If you do not intend to view the footage on a large UHD screen, avoid capturing 4K videos and stick to Full-HD or lower resolution. We are not overly worried about this since 4K is still in its infancy and Sony has stretched the device to its maximum potential by incorporating 4K capture.
Value for Money
The Sony Xperia Z2 retails at an MRP of Rs.49,990. At this price, the device is good value for money, considering the premium segment in which it competes. Those with slightly shallower pockets may find a nearcomparable device in the Z1.
KEY SPECIFICATIONS
Operating system                                      : Google Android 4.4 (KitKat)
Processor                                                : 2.3 GHz Qualcomm MSM8974AB Quad Core
GPU                                                       : Adreno 330
SIM card                                                  : micro SIM
Main screen                                            : Colours 16,777,216 colour TFT
Resolution                                                : Full HD 1920×1080 pixels
Size (diagonal)                                         : 5.2 inches
Text input                                                : On-screen QWERTY keyboard
Touch screen                                            : Capacitive
Touch gesture                                            : Yes – multi-touch, up to 10 fingers supported
RAM                                                          : 3 GB
Flash memory                                             : Up to 16GB
Expansion slot                                            : microSD card, up to 128 GB (SDXC supported)
Camera resolution                                         : 20.7 MP
Digital zoom                                                   : 8x
Photo light                                                      : Yes – Pulsed LED
Video recording                                                   : Yes – 4K2K
Front Camera                                                       : Yes – HD 1080p for video chat and 2.2 MP for camera
capture
Sensitivity                                                             : ISO 50 to 3200 maximum in manual mode
Minimum Focus distance                                       : 100 mm
Sensors                                                              : Accelerometer, Ambient light sensor, Barometer sensor,
Game rotation vector, Geomagnetic rotation vector,
Gyroscope, Magnetometer, Step counter, Step detector,
Significant motion detector, Proximity sensor
Battery (Embedded)                                       : 3200 mAh minimum
Size                                                            : 146.8 x 73.3 x 8.2 mm
Weight                                                         : 163 grams
PLUS
• Excellent build quality
• Water and dust proof
• Powerful hardware
• Good camera
MINUS
• Adapter doesn't fit Indian power sockets
• Back-side glass body is not scratch proof
FINAL SCORE 87%
Design and Build Quality            19/20
Key Features                           17/20
Ergonomics                            18/20
Performance                           17/20
Value for Money                     16/10
VERDICT
The Xperia Z2 is a beautifully crafted premium Smartphone with powerful hardware that provides great performance. Combined with a water and dust-proof body, the Z2 is certainly one of the best Smartphones available in the Indian market. Moreover, it incorporates a capable camera that you can use in most situations.
Sujith Gopinath