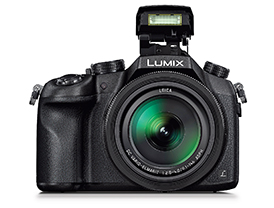 Bridge cameras are positioned between point-and-shoot cameras and D-SLRs and as such they are very much in demand for their ease of handling and their usual super-long zoom lenses. Panasonic introduced their muchsought- aft er FZ200 (25-600mm equivalent Leica-designed lens with a fast f/2.8 aperture throughout) somewhere in the middle of 2012. As good as the camera is (it is still available), a limitation according to guys like us, is the small imaging sensor (6.17 x 4.55mm). Now comes the FZ1000. Th e zoom range has been shortened (25-400mm equivalent), the Leica-designed lens is now slightly slower (f/2.8-4), but autofocus with the FZ1000 is approximately 275% faster and the imaging sensor is now comparatively much larger at 13.2 x 8.8mm (almost 4 times larger). Th is means larger photosites, which result in larger pixels, which in turn off er better control in digital noise especially at higher ISO sensitivities, along with better dynamic range. So let's see how Panasonic's fl agship 16x Bridge camera – the Lumix FZ1000 – fares on our test bench…
Design and Build Quality
By design, the FZ1000 is a Bridge (Prosumer) camera, using a noninterchangeable 25-400mm (16x) equivalent zoom lens. Th e build quality is very good (a bit lower than its nearest competitor, the Sony RX100 III, but at the same time, the FZ1000 does not have the issue of  exposed connecting cable that we reported on the RX100 III in the September 2014 issue). Th e outer body is made with engineering plastic. Th e camera is quite large and weighs 830g including the battery.
Key Features
Th e FZ1000 is a 20 megapixel (eff ective) Bridge camera with a Leica DC Vario-Elmarit, 25-400mm
equivalent zoom lens. It incorporates a 1" Type (13.2 x 8.8mm) Highsensitivity MOS imaging sensor backed by Panasonic's tried and tested Venus Engine image processor. Th e camera can shoot in Raw as well as Raw+JPEG, off ering a maximum resolution of 5472 x 3648 pixels. Pictures can be shot in 4:3, 3:2, 16:9 and 1:1 aspect ratio. Th e camera body incorporates a hybrid 5-axis optical image stabilizer for still images  as well as video. A well-designed hand-grip makes the camera very comfortable to hold.
Various AF modes are available – Single, Continuous, Face Detect, Live View, Focus-Tracking, Multi-area, Contrast-detect, Center and Selective single point. Manual focussing is possible. 49 focus points are available. Th e camera off ers 3 metering modes: Multi, Center-weighted and Spot. Th e lens has a minimum focussing distance of 30 cm (< 12"), while in macro mode it can focus as close as 3 cm. Th e FZ1000 has an electronic viewfi nder (4:3 aspect ratio) with 100% coverage (resolution 2,359,000 dots) and a fully articulated 3" LCD with a resolution of 921,000 dots. Th e LCD does not off er touch-screen facility.
Apertures on the FZ1000 range from F/2.8-8 (W); F/4-8 (T), whereas shutter speeds range from 60 sec- 1/4000 sec (Mechanical shutter); 1-16,000 sec (Electronic shutter). Shooting modes are P, A, S, M, Movie, Custom 1 & 2, Scene (25 scenes), Art Filters and intelligent Auto. Exposures can be compensated by +/- 5 stops and bracketed up to +/- 3 stops. White Balance cannot be bracketed. The FZ1000 can shoot at a maximum burst rate of 12fps. The Leica-designed zoom lens is constructed from 15 elements in 11 groups which include 4xED and 5xAsperical lens elements. The zoom can be operated using a ring that surrounds the lens or by operating the zoom lever (with 5 possible zoom speeds) on the top plate. On the left side of the lens (as when viewing through the lens), is a switch that controls the lens ring between zooming and manual focus. Below it is the switch for the 5-axis image stabilizer. The FZ1000 offers 5 Function buttons that, depending on the mode – Recording or Playback – can be customised by the user. The lens has thread for 62mm filters.
On the top left of the camera is a dial for drive mode that allows you to select between single shot, continuous, exposure bracketing, self-timer and interval-timer. An accessory shoe (hot-shoe) and a stereo microphone is provided. The FZ1000 offers a built-in flash with a maximum range of 13.5m (W) or 9.5m (T) when set to Auto ISO. An optional dedicated flash (DMW-FL580L) with built-in LCD video light is available. ISO sensitivity ranges between Auto, 125-12,800 but can be expanded to equivalents of 80-25,600.
If you download the Panasonic Image App, you can use a Smartphone or a Tablet to remotely control your FZ1000's zoom, set focus and shoot, and instantly upload/share your images on social media. By simply touching your FZ1000 to an NFC-enabled Smartphone or Tablet, or by scanning the QR code, you can start the in-built Wi-Fi and transfer your images. And by utilizing the GPS log of a Smartphone or Tablet, you can add location information to the shared images
The FZ1000 allows you to create vertical or horizontal panoramas. A  variety of Filter Effects can also be added for expressive photography.
Video
The FZ1000 is capable of recording 4K QFHD (Quad Full High Definition) video where the horizontal resolution is approximately 4000 pixels (3840 x 2160, 30 fps in MP4) as against the 1080 pixel vertical resolution (1920 x 1080) in a Standard 1080p video. This results in a much higher image quality as compared to the Standard video. According to Panasonic, one should use a card rated as UHS Speed Class 3 when recording 4K video. It is possible to capture an 8-megapixel still image from the video footage. A stereo zoom microphone reduces zoom noise and an Auto Wind Cut feature stops most of the wind noise.
Ergonomics
The FZ1000 is very easy to operate and the user interface is very friendly. The controls seem to be the right places. The zoom can be operated lens or using the rocker switch surrounding the shutter release button. The lens extends quite a bit when you zoom out to the maximum focal length (400mm equivalent), but the lens barrel does not rotate, making it easy to use PL or Graduated Neutral Density filter. As you zoom, the viewfinder shows the equivalent focal length. Individual eyesight correction dioptre is to the left of the electronic viewfinder, which is a pleasure to use. If you have a trigger-happy index finger, it would do well to have an extra battery with you.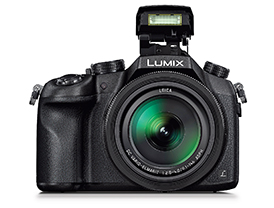 Performance
The Panasonic FZ1000 delivers superb image quality, thanks to its excellent Leica DC Vario-Elmarit  zoom lens, combined with its Venus Engine processor (identical to the one used in its flagship Micro Four Thirds GH4) and the large (compared to compacts and most other bridge cameras) imaging sensor. Autofocussing is very fast, aided by Panasonic's DFD (Depth From Defocussing) technology. According to Panasonic, "It instantaneously calculates the distance to the subject by evaluating 2 images with different sharpness levels. As a result, ultra high-speed AF of approx. 0.09 sec (wideend) / approx. 0.17sec (tele-end) is achieved". The 25-400mm equivalent zoom lens retains its sharpness even at the 400mm end, something that most long-zoom lenses don't do well.
There was no perceptible time lag between the pressing of the shutter release button and the actual exposure. When set to exposure bracketing, the burst speed was extremely fast. The camera is capable of firing at 12 frames per second! The FZ1000 has a native print size of 18.24 x 12.16 inches at 300ppi. At 25% screen size, images were usable at all the rated ISOs, though ISO 6400 was slightly noisy and ISO 12800 did show more noise. At 50% screen size, images were okay up to ISO 3200, though ISO 3200 images were slightly soft, possibly due to excessive noise reduction within the camera. At 100% screen size, images shot at 1600 and above were noisy. Video quality was outstanding. We did not try the 4K video since we do not have a 4K TV but the 'normal' video quality left us spellbound
Value for Money
Panasonic India is yet to introduce the FZ1000 in the Indian market and therefore there is no guide price. In Europe, it retails for around 800 Euros or 750 Pounds including value added tax. Without tax, this would translate to around Rs.62,000. At or around this price, the FZ1000 is fair to good value. Expect prices to ease as supply improves
PLUS
• Good build quality
• Excellent image quality for a camera with a 1" Type sensor
• Excellent video quality

MINUS
• Lens cap design could have been better
• Battery life limited
FINAL SCORE 84%
Design and Build Quality                        16/20
Key Features                                        18/20
Ergonomics                                          18/20
Performance
Autofocus                                                4/5
Metering                                                  4/5
Noise Control                                            4/5
Sharpness                                               4/5
LCD/EVF                                                5/5
Auto W/B                                                4/5
Sub-Total                                              25/30
Value for Money                                       7/10
VERDICT
The Superzoom/Bridge camera category is one section of the compact camera market that is under no danger. Predictably, all the major manufacturers have a superzoom in their range. With the FZ1000, Panasonic is now the king of the superzooms. Currently, there is no competing camera that can come close to the FZ1000. Go for it!
Rohinton Mehta