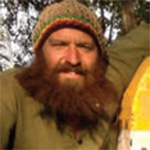 Stefano Tomassetti is a self-trained travel photographer from Rome, Italy. His passion for photography inspired him to embark upon a beautiful voyage – a four month solitary journey through south-eastern region of Asia. He travelled to Burma, Laos, Vietnam, Cambodia, Thailand, Malaysia and Bangladesh and India. Since his childhood days, Stefano was interested in learning the art of photography. By the end of nineties, he gained a significant experience using a Pentax 500 analog. He started pursuing professional photography in 2010, when he bought his first SLR camera. To view his work and to follow his journey visit: http://www. smallboyphotodreamer.com
As told to Unnati Sagar
It is believed that the core of a man's spirit comes from new experiences and adventures. If one wishes to get more out of life, he must lose his inclination for wonted securities. Travelling to different places and encountering different situations brings a joy that is greater than any other. And that is exactly the kind of joy that Stefano has experienced over the past few years. Caught-up in the boredom of his monotonous life, he decided to quit his job and take a solo trip to South Asia. It was something that he had never done before; getting outside his comfort zone. It was a conflict between his mind and heart. And he chose to follow the latter. He left his job and country in September 2015 to follow his passion for travel and photography.
Stefano decided to visit Mongolia, as he heard a lot about the Golden Eagle Festival that takes place in the first week of October every year. He flew from Rome to St. Petersburg, Russia. To reach Mongolia in time for the festival, Stefano planned to cross Russia by the Trans-Siberian railway. After arriving to Ulan Bator, the capital city of Mongolia, he hitchhiked his way to Bayan-Ölgii, where the festival takes place.
Living in Mongolia was a surreal experience for him as he witnessed falconers from the region, hunting other animals, as big as wolves, with their trained eagles. After Mongolia, next up on his list was China. He stayed there for 20 days before he started travelling southwards. He took a bus for Laos where he stayed for a month and met other backpackers, whom he will always remember. That's the thing about travelling he says, along your journey you meet different people whom you never forget; some local and some travellers from around the world.
Next destination on Stefano's map was Cambodia. There he visited an orphanage which he has been supporting for a over three years. The A.O.E.O. "Angkor Orphanage and Education Organization" of Angkor Wat – Siem Reap in Cambodia. Stefano exhibited his work and sold his photographs to raise funds for the development of the center. Travelling further he visited Thailand and from Bangkok to he flew to Chennai where he started his journey in India. It was a special moment for him as he had always dreamed of visiting India. Talking about his Indian odyssey he says, "Traveling in India by motorcycle is one of the most beautiful way to feel the soul of this amazing country. It is a mix of ancient culture and religions, with its beautiful landscapes, delicious food, and a very powerful atmosphere".
He travelled to Varanasi, visited the Ganga Ghat and was mesmerized by the rich culture of the country. The last city on his map was Mumbai. And it was an opportune moment, as he exhibited his travel photographs. His work was well received. This was the last, yet one of the best experience, he says. After a four month solo-journey, hundreds of new friends and tons of beautiful memories, Stefano decided to go back to his country.
Talking about his passion for travel and love for photography, Stefano says, "Travel photography is the path that allows me, and all those who take it, to discover new things, new cultures, and this makes me feel part of the world around me. When I travel I walk the streets, I change direction because I am attracted by what surrounds me – it could be a face or a landscape or a situation. I am able to get in touch with the reality of the place through the people who live it. I observe, I stop and I run through life. What I see and perceive – the situations unfolding right before me – inspires me to take a picture and capture that precise moment in time. It is a matter of moments and you have to be prepared, to know how to take the opportunity, or be good at knowing how to predict an event before it has even occurred." |SP