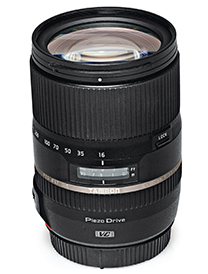 The Tamron 18.8x, 16- 300mm F/3.5-6.3 Di II VC PSD Macro lens was announced in early February 2014 and we already have it for review! The lens is available in Canon, Nikon and Sony mounts. The Sony mount model does not incorporate VC (Vibration Compensation) as that feature is in-built into Sony camera bodies. The focal length range of 16-300mm is very versatile – can be used for landscapes, portraits, table-tops, wildlife and even close-ups. The question is, with such a wide range, how sharp is the lens? The lens that we received for review had a Canon mount and hence the review, unless otherwise stated, relates to the Canon mount lens. Read on…
Design & Build Quality
The Tamron 16-300mm lens has a 3-segment twist-zoom construction. The outer body is made from engineering plastic and feels sufficiently strong. The lens mount is made from metal. Lens dimensions are 75mm (dia) x 100mm (l) but when fully extended (at 300mm setting), its overall length increases to approximately 181mm. Filter thread (67mm dia) is made of plastic. The lens is made in China.
Key features
The Tamron 16-300mm F/3.5- 6.3 Di II VC PSD Macro lens is designed for APS-C sensor cameras. In terms of 35mm format, its equivalent focal length is 25.6 – 480mm. It is legibly marked in white (screen printing) at 15, 35, 50, 70, 100, 200 and 300mm settings. The rectilinear grid pattern on the zoom ring (which is towards the filter end and is approximately 28mm broad) offers a comfortable grip. The manual focus ring is 10mm broad. A plastic window on the lens reveals the distance scale in feet and meters. Autofocus can be manually fine-tuned using the full-time AF/MF switch on the left of the lens. The VC On/Off switch is conveniently placed under the AF/MF switch and can be easily operated by the left thumb. A rubberised ring on the lens mount serves to ward off dust and moisture from getting into the lens or the camera body, thus offering moisture protection. The zoom ring can be locked at the 16mm setting to prevent the possibility of accidental damage during transit.
The lens is constructed with 16 elements in 12 groups, that includes 3 x Molded-Glass Aspherical elements, 2 x LD (Low Dispersion) elements and UXR (Ultra-Extra Refractive Index) glass that help to correct various optical flaws. Multiple coatings on the lens elements further improve image quality by reducing flare and ghosting. Tamron's Internal Focusing (IF) system provides a much closer minimum focusing distance (MFD) throughout its entire focusing range, offering  a maximum magnification ratio of 1:2.9 at the 300mm setting. The front element does not turn during zooming or focussing, making it convenient to use Graduated Neutral Density or Polarizing filters. A slightly raised lens attachment mark (in red) serves to easily align the lens to the camera body.
Tamron claim that the 16-300mm lens autofocuses quietly and noticeably faster due to the PZD (Piezo Drive) that's used in the lens. Manual override of AF (fine-tuning) is possible without fear of damaging the AF system. The lens incorporates Tamron's Vibration Correction (VC) but Tamron does not specify the number of stops advantage when using the VC. The lens weighs 540g with its supplied flowershaped hood.
Ergonomics
The Tamron 16-300mm F/3.5-6.3 Di II VC PSD Macro lens was easy to use and balanced quite well on the Canon EOS 550D that we used to test this lens. The zoom ring on our sample piece was initially a bit hard to turn but loosened with use. The manual focus ring was smooth. The 18.8x zoom means that the user may not have the need to change lenses frequently, thus reducing the chances of dust from getting on to the imaging sensor.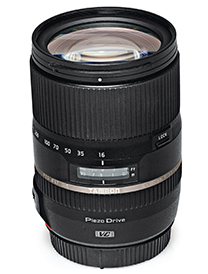 Performance
As mentioned earlier, the lens was tested using a Canon EOS 550D body. The lens balanced well in spite of the fact that it protrudes quite a bit when set to its maximum focal length. Autofocus was reasonably fast in good light. Darkening of corners was observed at all apertures at the widest focal length. Barrel distortion was evident at 16mm. Pin-cushion distortion was evident at all other marked focal lengths, though marginal at 200 and 300mm. Flare was visible in shots that included the light source and so was red fringing.
Here is a table showing central sharpness levels at different apertures and focal lengths. As is expected from almost every lens, corner/side sharpness was slightly less than mentioned, other than at f/11 and f/16 at 200 and 300mm where corner sharpness was almost as good as that in the centre.
Value for Money
The Tamron 16-300mm F/3.5-6.3 Di II VC PSD Macro lens is available at an MRP of Rs.48,990. That makes it very competitive if you compare it to a 18-300mm lens from the competition. Tamron offers a 2-year warranty for the lens. We would say its fair value for money.
Plus
• Extended zoom range
• Close focussing ability
• Good sharpness (considering its price and focal range)
Minus
• Screen printing likely to wear off with use
• Quite 'slow' at the telephoto end
Final Score                                                                78%
Design and Build Quality                                             16/20
Key Features                                                              17/20
Ergonomics                                                                 17/20
Performance
Autofocus                                                                     4/5
Sharpness                                                                    4/5
Distortion Control                                                           3/5
Aberrations                                                                   3/5
Darkening  of Corners                                                    3/5
Extra Features                                                           3.5/5
Sub-Total                                                                      20/30
Value for Money                                                            7.5/10
VERDICT
First, Tamron must be lauded for trying to create such an ambitious lens. And have they succeeded? Well, at first glance (seeing the sharpness chart) you might think otherwise. But if you ponder over it, and if you consider that the lens is created for those not born with a silver spoon, and that the lens is sharp / acceptably sharp up to f/16 and at all focal lengths, I say that they have succeeded. This lens may not compete in sharpness with pro lenses, but then this lens is not designed for the professionals and neither does it cost the earth. If you consider that a competitor's almost similar focal length lens costs about 65% more than this lens, you will consider it favourably.
Rohinton Mehta