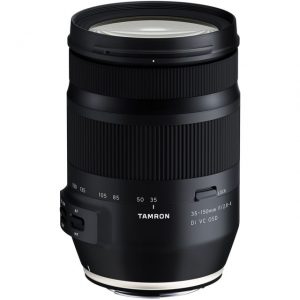 Tamron has announced the launch of its 35-150 mm f/2.8-4 Di VC OSD compact zoom lens for full-frame D-SLR cameras.
The zoom range incorporates the 85 mm focal length (often regarded as optimum for portrait shooting) and covers everything from full-body shots that include the surrounding area to sharp head-and-shoulders shots that stand out from a natural defocussed "bokeh" background. The compact lens is designed for fast handling and easy transport, measuring only 124.3 mm (4.9 in) long and perfectly balanced. On the technical side, three optimally placed LD (Low Dispersion) glass elements and three hybrid aspherical lenses quash various optical aberrations.
Tamron states that autofocus is exceptionally quiet with improved precision and speed due to the OSD (Optimized Silent Drive) DC motor. The lens also incorporates a Dual MPU (Micro-Processing Unit) system, which strikes the perfect balance between AF performance and effective vibration compensation. For close-focussing, the MOD (Minimum Object Distance) is 0.45 m (17.7 in) across the entire zoom range. Providing greater flexibility when used outdoors, a fluorine coating and moisture-resistant construction deliver extra measures of protection.
The Tamron 35-150 mm f/2.8-4 lens for Nikon will be launched on 23 May 2019, while the Canon mount model will be launched on 20 June 2019.