Tamron Co., Ltd. launches 35-150mm F/2-2.8 Di III VXD (Model A058), a fast-aperture telephoto zoom lens for Nikon Z mount cameras .The 35-150mm F2-2.8 covers wide-angle through telephoto and is ideal for both travel and portrait photography. It is the first zoom lens for Nikon Z mount cameras to have a maximum wide-open aperture of F2.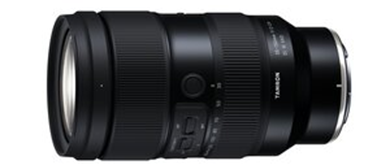 In addition, by incorporating the VXD (Voice-coil eXtreme-torque Drive) linear motor focus mechanism, the lens features a very high-speed and high-precision autofocus for a fast-aperture lens. It also incorporates a new design in the pursuit of enhanced operability and ergonomic convenience.
Incorporating the most frequently used focal lengths from wide-angle and standard to medium telephoto and telephoto all within this single lens enables seamless shooting without the need to swap lenses.
The 35-150mm F2-2.8 features a fast maximum aperture of F2 at the 35mm focal length, compared to the typical F2.8 fast-aperture zoom lenses. The F2 aperture allows use of higher shutter speeds and lower ISO settings, so users can enjoy less potential camera shake and reduce high-ISO image noise.
Make full use of the 35mm and 50mm focal lengths for landscape and street photography, change to an 85mm semi-telephoto angle of view for people and detail shots, and focus on a faraway subject at 150mm.
The versatile zoom range enables photographers to express themselves freely while capturing images focal lengths they are familiar with, including 35mm, 50mm (considered "normal" or standard), 85mm (mid-telephoto length commonly used for portraits), 100mm or 135mm, as well as the maximum 150mm tele focal length—and any focal length in between. It's like six lenses in one!
The lens's AF drive uses the linear motor focus mechanism VXD. The high-speed, high-precision AF provides the lens with superior responsiveness to the photographer's actions, delivering stable and reliable focusing even with fast-aperture lenses, from the MOD (Minimum Object Distance) to infinity. The 35-150mm F2-2.8 offers excellent focus tracking of moving objects so you are ready for those important moments.