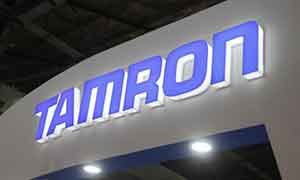 Tamron announced that it posted a 16.1% year-on-year gain in operating profit to 6.07 billion Yen on total revenue of 73.62 billion Yen, setting a new record. Net profit rose 20.3% to 3.846 billion Yen. The company attributed the favourable results to strong sales of interchangeable lenses.
Photographic interchangeable product division posted a revenue of 53.93 billion Yen, up 11.2% with operating profit of 5.85 billion Yen, a 36.7% jump over the previous year. Superzoom lenses such as the SP 16-300mm launched in April and the SP 150- 600mm released in December showed an immediate success and continued selling well ever since, the company said. The 150-600mm lens posted revenue of 6.4 billion Yen compared to the expected sales of 1.4 billion Yen, President Morio Ono said. Over half of the purchasers have been users of APS-C cameras. For APS-C camera users, the lens gives 900mm equivalent focal length on investment of around 150,000 Yen. The company plans to release a standard zoom lens this summer, which was originally planned last year The lens will target emerging economies.
The Lens module and related product division's sales posted a 7.8% fall to 7.03 billion Yen and a 29.2% decline in operating profit to 664 million yen. Tamron plans to release new models in a revised design towards summer.