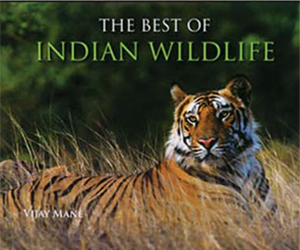 India's wildlife is one of its most commonly forgotten treasures. Preserved and maintained across 89 National Parks, 18 Bio-reserves, and 400+ Wildlife Sanctuaries, India has some of the most bio-diverse wildlife in the entire world. According to one study, India, along with other 17 other mega-diverse countries, is home to about 60-70% of the world's biodiversity. Hence, it is highly unfortunate that as Indians, we rarely take sufficient pride in this rich and plentiful bounty that Nature has bestowed upon our country. Vijay Mane's The Best of Indian Wildlife aims to remedy that.
Several Indian photographers wage a constant battle to try and showcase the rich wildlife diversity of India. However, often their work is too massive and scattered to make a concentrated impact. Hence, The Best of Indian Wildlife is an attempt to bridge this gap; Mane has worked for over six years and gone through thousands of photographs, and carefully and lovingly compiled the best of them into a coffee table book that is  we-inspiring in its magnitude and scope. Featuring the work of almost 50 dedicated wildlife photographers, including some of the best names in the field such as Dhritiman Mukherjee, Jagdeep Rajput, Manoj Sindagi, Niranjan Sant, Sachin Rai, T.N.A. Perumal, as well as Vijay Mane himself, The Best of Indian Wildlife is a mammoth attempt at showcasing not just the diverse wildlife of India, but telling the stories of the grit and determination and unflinching dedication (even in the face of danger) of the photographers who work constantly to capture this rich diversity in photographs and showcase it to the general public.
The book is filled with over 100 stunning images that display the aweinspiring bio-diversity of Indian wildlife in all its forms. From a face-off between a tigress driven by maternal instincts and elephants, to the heart-warming love and selfless devotion displayed by hornbills in raising their young; from the fear-inducing ruthlessness, cunning and military precision displayed by Dholes (Indian wild dogs) moving in on their prey, to the shocking display of power shown by a python devouring a whole langur; from the spell-binding beauty and grace of the Sarus cranes' courting rituals, to the amazing social structure and understanding displayed by animals of all kinds – The Best of Indian Wildlife brings all these breathtaking moments, frozen for eternity by a photographer's lens, to the reader. And to ensure that the photographer gets his/her worthy due, each photograph is accompanied with a brief paragraph that gives a little background information and the story behind how the image was captured. And each story is a study in human perseverance, and occasionally, sheer reckless abandonment and courage.
As one flips through The Best of Indian Wildlife, it is difficult not to be left speechless by the quality of the images
reproduced here. Each detail has been captured deftly, and the result is simply dazzling, laid out before you on
highest-quality paper for your visual delight. As you read through the stories, and come to understand the immense amount of struggle and hard work behind each image, one cannot help but develop the deepest respect for the men and women who risk so much and spend so much time and effort into bringing these images to us.
Despite a quite hefty price of INR 12,000/-, every rupee spent for this book is worth the investment. For that is what this is – not just another coffee table book, but an investment into preserving some of the most spectacular photographs of Indian wildlife ever captured. Do yourself a favour; pick up this book as soon as you can. You will not regret it, and maybe, just maybe, you will feel inspired to help preserving The Best of Indian Wildlife.
The Best of Indian Wildlife – by Vijay Mane
Published by: Sunmay Publications, Mumbai. www.sunmaypublications.com.
Design & Production: Sameer & Alisha Kehimkar, LycodonFX Pvt. Ltd. www.lyocodonfx.com.
Printing: M/s Pragati Offset Pvt. Ltd., Hyderabad.
Reviewed by Spandan Sharma