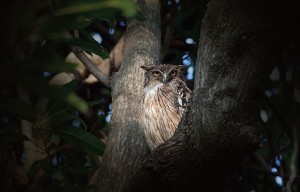 Tell us a little about your life. How did you get into photography?
By profession I am an R&D Manager with Johnson & Johnson. My passion for birds was born long back, when I was a child. I still remember my childhood days when my father often used to throw off all the eggs laid by pigeons. Unfortunately these eggs were laid in the nest made in our kitchen loft , just above our gas stove. I couldn't bear to see this. I wasn't mature enough to think much but I still tried to make a proper place in our kitchen for the pigeons to build a nest so that they don't create nuisance for my parents. Every day after school instead of going out to play I use to sit quietly, watching the activities of the pigeons. I tried to understand their body language with great curiosity. I never realized that with time, this turned into a deep passion. As the days passed by, I started observing other birds and their sounds, thus enhancing my identification skills. My eyes were tempted to see birds more closely and I bought my first SLR camera. Simply put, I am mad about the wilderness and I like to explore Indian geography to get closer to different species.
                      Brown Fish Owl                                                         Take Off
You obviously are a nature lover and you specialize in bird photography. What made you to specialize in this genre?
The journey of photography actually started with bird watching. For many years I used to watch birds through binoculars. I bought my first camera to take record shots of birds which were difficult to identify at first sight. My first entry-level camera and my deep passion for birds drew me into serious bird photography. Slowly, I started spending most of my time browsing bird photography websites which helped me to shape my skills.
  Short-Eared Owl                             Bee-eater with bee
What are the difficulties that you face when doing bird photography?
Patience is the biggest challenge for me while doing bird photography. As we all know birds usually don't sit in one place unless the environment around them is conducive. On the other hand, if the creature is stable then sometime nature plays a challenging role—bad light, object hindrance, disturbing people around so on. My wife jokingly asks me, "how do you manage to be patient only during photography, since it is against your normal behaviour?"
Are any special skills required when doing wildlife/nature photography?
I believe that in order to get the best wildlife shots, the most important thing is to have knowledge about animal behaviour. It is critical to understand their body language and understand how close we can get or when the creature will spring into action, etc.
Secondly, choosing right background is very important, as it can make or break pictures. In nature photography, it is not always possible to get a favourable background. It is up to the photographer to overcome the difficult situations and get the best out of it.
Fan-tailed Monarch                                           Oriental Dwarf Kingfisher
Do you think that equipment plays a major role in capturing wildlife/nature?
I believe nowadays with modern hitech equipment sometimes one can overcome complex situations like low light conditions or photographing in the rain. But basic skills such as composition, choosing the right background and a proper angle are still important.
Black chinned Babbler                      Flame throated Bulbul
What are your views on editing images?
Personally, I don't like to edit images. My philosophy is that one should be able to click such images that only minor changes like sharpening, and correcting colours should suffice. I am sure natural beauty is always appreciable.
What advice can you give to budding photographers in this field?
Rather than making corrections using Photoshop, I would advise them to utilize more time in the field to get the best shots through the camera itself.
Also, there is no direct correlation between high-end equipment and the best photographs. One should always be ready to get closer to the ground for eye-level shots or to get the right background.
As told to Tanika Godbole