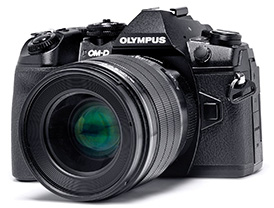 There was a time when Olympus was literally written off by many experts with Panasonic taking the lead in Micro Four Thirds cameras. With the OM-D series, the company turned around, declaring that it still has some formidable firepower left for a fight. Combined with stunning optics in their PRO series lenses, the company once again has proven its mettle. The OM-D E-M1 Mark II adds on-chip phase detection amidst a host of incredible upgrades.
Design and Build Quality
The Olympus OM-D E-M1 Mark II is sturdily built with a weatherproof magnesium alloy body. The body is splashproof, dustproof and freezeproof up to -10 degree Celsius. The camera has a sophisticated appearance, similar to other OM-D series bodies. There are two command dials on top along with the mode dial, two multifunctional buttons and power switch. The shutter release button, function button and record button complete the top panel. The mode dial has a lock, which can be pressed to permanently prevent accidental rotation. The shutter has been tested for durability for up to 200,000 actuations. Overall, the camera is ergonomically designed with a deep grip and provides a sturdy feel, though it is lightweight.
Key Features
The 20.4 megapixel OM-D E-M1 Mark II uses a 4/3-inch Type (13.0 x 17.3mm) Live MOS sensor for imaging. The sensor unit incorporates a supersonic wave filter for dust reduction and uses a Micro Four Thirds lens mount. The camera uses a TruePic VIII image processor. The E-M1 II uses a high-speed imager AF aided by 121-point cross-type (on-chip) phase detection AF and 121-point contrast detection AF. Focus modes used are Single (S-AF), Continuous (C-AF), Manual Focus (MF), S-AF + MF, AF tracking (C-AF + TR) and Preset MF. The camera does not allow full time AF. The camera offers Face and Eye Detection. Face detection allows a maximum of eight faces to be displayed. Focus Area modes include All target, Group target (9-area or 5-area) and Single target. The camera uses a 5-axis sensor-shift image stabilisation for both movie and still and provides Lens IS Priority option to use Optical Image Stabilisation if you choose so.
The camera uses a computerised focal-plane, high-speed mechanical shutter and also a silent electronic shutter. The mechanical shutter provides shutter speeds from 60 to 1/8000 seconds, while the electronic shutter provides 60 to 1/32000 seconds shutter speed range. Bulb setting allows you to select from 1, 2, 4, 8, 15, 20, 25 and 30 minutes. Still images are recorded in Raw (12- bit lossless compression) or JPEG format with an option to record both simultaneously. These can be captured with a maximum size of 5184 x 3888 pixels. In default mode, the camera can shoot full resolution images at 15 frames per second and maintain this rate for a maximum of 84 Raw or 117 JPEG images. In Silent or Pro Capture mode, it can shoot at up to 60 frames per second for 48 Raw or JPEG images. Self-timer can be set to 12 or 2 seconds. Custom self-timer option is also available. Videos are recorded in MOV(MPEG-4AVC/H.264) or AVI(Motion JPEG) format at the best quality of 4096 × 2160 (Cinema 4K) / 24p. Movie Image Stabilisation options are M-IS1 (Image sensor shift and electronic image stabiliser with multi motion IS) and M-IS2 (Image sensor shift with multi motion IS).
The E-M1 II uses an eye-level electronic viewfinder with approximately 2.36 million dots. The EVF provides grids such as normal, trichotomy, golden grid, scale, diagonal and movie grid. The device uses a 2-axis (horizontal / vertical) level gauge. It also offers a Simulated OVF (S-OVF), which expands the Live View dynamic range. The camera uses a 3.0-inch, Approx.1037 k-dot fully articulated capacitive touch panel for display. The E-M1 Mark II offers Digital ESP (324-area multi pattern metering), center-weighted average, spot, spot with highlight control and spot with shadow control (along with AF target spot metering) metering mode. The system can meter in the range of -2 to 20 EV illumination. Shooting modes include i Auto, P (Program AE), A (Aperture priority AE), S (Shutter priority AE), M (Manual), Custom (3 settings), Art Filter, and Underwater wide/macro (to be assigned to the Fn1 button). Sensitivity ranges from LOW (approx. ISO 64) to 25,600, along with an Auto option. Exposure can be compensated up to ±5 EV in 1/3, 1/2 or 1 EV steps.
The E-M1 II does not have a built-in flash, but Olympus has bundled the FLLM3 dust and splash proof flash along with the kit (unfortunately, Olympus decided not to provide this along with our test piece). Flash control is through TTL Auto, Auto, Manual or Super FP modes. The bundled flash has a Guide Number of 9.1m at ISO100. The flash has bounce capability with 45, 60, 75, 90 degree in vertical and 30, 60, 90, 120, 150, 180 degree in horizontal axis. Flash modes include Redeye, Fill-in, Flash Off, Red-eye Slow sync. (1st curtain), Slow sync.(1st curtain), Slow sync.(2nd curtain) and Manual (1/1~1/64). In default mode, the flash synchronises with the shutter at up to 1/250 sec, while in Super FP mode, it can synchronise from 1/125 to 1/8000 sec. Flash intensity can be altered up to ±3 EV in 1/3, 1/2, 1 EV steps. The flash is compatible with Olympus Wireless RC Flash system and can wirelessly trigger and control compatible flashes.
The camera provides White Balanceoptions such as Auto, Sunny (5300K), Shadow (7500K), Cloudy (6000K), Incandescent (3000K), Fluorescent (4000K), Underwater, Flash (5500K) and CWB (2000 – 14000K). White Balanced can be fine-tuned. The E-M1 II provides bracketing options for Exposure, ISO, White Balance, Flash and Focus. Focus Stacking mode allows stacking of eight shots taken at different focus points and automatically composited together into a single image. The camera provides 14 Art Filters and nine Art Effects.
The E-M1 Mark II features dual memory card slots compatible with SD, SDHC, SDXC and Eye-Fi cards. While slot 1 is UHS-I,II compatible, Slot 2 is UHS-I compatible. The slots can be configured as Standard, Auto Switch, Dual Independent and Dual Same. The camera has a built-in stereo microphone and built-in mono speaker, and has provision for an external stereo microphone. Connectors include USB Type-C, 2.5mm Pin Remote Jack, Micro HDMI (type D), Accessory shoe (Hot shoe) with sync terminal, 3.5mm stereo mini MIC/Headphone  jack (plug-in power on/off) and SuperSpeed (USB3.0) POC interface.  The camera has built-in Wireless LAN (Wi-Fi). The E-M1 Mark II is powered by a BLH-1 Li-ion battery (included). The camera weighs approximately 574g with battery and memory card and measures 134.1 x 90.9 x 68.9mm (WxHxD).