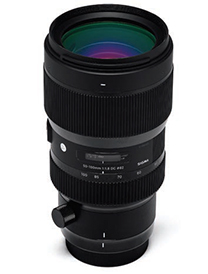 Sigma's 'Art' lenses have created a name for themselves as being amongst the finest, offering very high optical performance. Sure, they are heavy but their image quality and build are outstanding. This focal length range (equivalent to 80-160mm) makes it ideal for a variety of photographic situations as in weddings, portraits, travel, action etc. The fast f/1.8 maximum aperture allows for quick autofocussing even in low-light situations and can create great bokeh. We have today with us the Sigma 50-100mm f/1.8 DC HSM Art (Canon mount). Let's see how it fares on our test bench…
Design & Build Quality
The 50-100mm f/1.8 DC HSM Art lens is designed for APS-C sensor D-SLRs. Its build quality is immaculate and so is the finish. The focussing ring is towards the filter-end and is 33mm wide with serrated rubberised grip. The zoom ring, also rubberised, is almost 20mm wide and has clearly legible white markings for 50, 60, 70, 85 and 100mm settings. The lens mount is made of metal and there is a small white raised plastic dot at the lens-mount end that makes it easy to align the lens to the camera body. Filter size is 82mm and the lens is made in Sigma's Aizu factory in Japan. The lens (Canon mount) weighs 1600g with its front and rear lens caps.
Key Features
The 50-100mm f/1.8 DC HSM Art lens is constructed with 21 elements in 15 groups that includes 3 x Premium FLD elements and 1 x SLD element. The DC in its nomenclature indicates that the lens is designed for APS-C sensor camera bodies, where it offers an equivalent focal length of 80- 160mm (75-150mm for Nikon bodies). A distance scale, marked in meters and feet, can be seen under a plastic protector between the focus and the zoom ring. A Focus Mode switch is located to the left of the lens and offers AF-MF settings. The lens comes with a tripod collar that allows you to easily turn the camera for vertical/ horizontal o rientation. A tripod socket is provided.
The 50-100mm incorporates a Hyper Sonic Motor (HSM) for quick, quiet and accurate autofocus. The lens also offers an Internal Focussing (IF) design and hence the lens does not extend during focussing or zooming. And since the front element does not rotate, it's easy to use polarising and graduated neutral density filters. The lens works with the Sigma US
Dock (not included with the lens) to calibrate focus, if necessary and update firmware.
Ergonomics
We reviewed the lens using a Canon EOS 600D body. The lens is heavy and after a while, the weight gets on to you. The lens is easy to use. Due to its Internal Focus design, it maintains good balance at all focal length
settings.