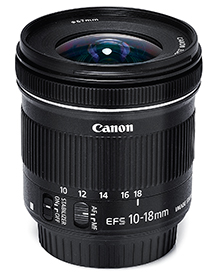 For someone without deep pockets, a wideangle lens is like sour grapes, with most of them falling beyond the reach of his budget. This is why you should look at the new EF-S 10-18mm f/4.5-5.6 IS STM, a comparatively inexpensive wide-angle option for APS-C type camera bodies. We would consider this a step in the right direction from Canon. Design and Build Quality The EF-S 10-18mm is essentially an amateur lens, and hence we can see some compromise in the material used for construction. The outer body is made of engineering plastic, which makes the lens light and easy to lug around. It has a plastic mount, which is less resilient to wear and tear than its metal counterparts. We do not consider these essentially as negatives because an amateur, affordable wide-angle lens is essentially a compromise in  one way or the other.
Key Features
The Canon EF-S 10-18mm is designed for APS-C bodies and provides an equivalent focal length of 16 to 29mm on these cameras. It is compact and lightweight and incorporates a stepping motor (STM) along with a newlydesigned focus mechanism to provide smooth and quiet continuous AF, especially during video recording. The lens has a total aperture range of f/4.5-22 (W) and f/5.6-29 (T). It features 14 elements in 11 groups including one UD element that helps reduce chromatic aberration throughout the zoom range. The lens is designed with large diameter and aspherical elements to reduce the aberrations. Canon claim that the Image Stabilisation (IS) system provides up to four stops advantage over non-IS lenses in terms of shutter speed. The lens is coated with special materials to provide good colour balance and reduce flare and ghosting.
The lens has a 7-blade circular aperture for soft and pleasing bokeh. The AF system employs rear focusing for high speed autofocus. It also features fulltime manual focus adjustments,b which allows manual focus even when the lens is in AF mode. The lens provides a diagonal angle of view of 107°30' to 74°20'. It has a filter size of 67mm (dia) and the closest focus distance is 0.22m. The lens weighs 240g and has dimensions of 74.6mm (dia) x 72.0mm.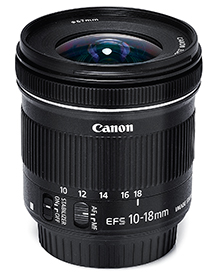 Ergonomics
The 10-18mm lens is compact and lightweight. Both the zoom and focus rings have rubber grips, which make them easy to rotate. The broad zoom ring is at the back, while the narrower focus ring is at the front. The focus ring rotates freely even in AF mode since the lens allows full-time manual focussing. The body balanced well with the EOS 600D that we used for the tests. Since this lens can be mounted only on APS-C type bodies the lens features only the white square alignment mark to mount it on the body (full-frame lenses and bodies have raised red dots for alignment). Performance The Canon 10-18mm lens performed well in our tests. Autofocus was fast, silent and precise. We did not observe any focussing sound during movie playback, thanks to the STM. Focussing was fast even during video recording. The lens focussed well even under reasonably low light. Images appeared sharp out of the box. And the sweet spot was found to be around f/5.6 to 8. Sharpness deteriorated from centre to the edges as expected, especially at the wide-angle end. We observed prominent darkening of corners at the wideangle end at all apertures. Slight flare was also observed, but we did not notice any chromatic aberration. The lens produced barrel distortion from 10 to 14mm.
Value for Money
The Canon EF-S 10-18mm f/4.5-5.6 IS STM lens retails at an MRP of Rs.20,995. At this price, the lens is very good value for money.
PLUS
• Fast and silent AF
• Great price
• Lightweight
• Image Stabilisation
MINUS
• Plastic lens mount
• Not the best in peformance
FINAL SCORE                                      82%
Design and Build Quality                     16/20
Key Features                                      18/20
Ergonomics                                        17/20
Performance
Autofocus                                              4/5
Sharpness                                              4/5
Distortion Control                                     3/5
Aberrations                                              4/5
Darkening                                                 3/5
of Corners
Extra Features                                            4/5
Sub-Total                                                22/30
Value for Money                                       9/10
VERDICT
The EF-S 10-18mm lens is aimed at amateur photographers who are keen on buying an affordable wide-angle lens for their APS-C bodies to augment the capabilities of the kit lens. The STM offers fast and silent focussing, making it ideal for wideangle motion pictures. This is indeed a great value-formoney product.
Sujith Gopinath