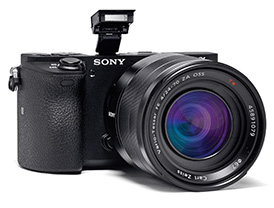 Ergonomics
The Sony Alpha 6500 has a broad and deep-enough grip with a textured rubber finish. The body is light and comfortable to use. It balanced well with the FE 24- 70mm f/4 lens Sony provided for the test. The viewfinder was bright and the images were crisp. You can adjust the brightness and colour temperature of the EVF. The LCD appeared bright and the display crisp. The one difficulty with the camera is that the card access lamp is at the bottom of the camera, near the battery/card chamber.
Performance
The Sony Alpha 6500 performed  very well in our tests. Autofocus was fast and inaudible. The system latched on to the subject without any problem even under low light. The camera shot at approximately 10 frames per second in full resolution even with Raw + JPEG setting using a Sandisk Extreme PRO 95MB/s SD XC Class 10 (U3) card. We obtained 102 continuous frames (Raw + JPEG) before the camera showed some hesitation.
In Auto White Balance mode, the camera reproduced colours true to the original under most lighting conditions except incandescent, where it produced red cast. All metering modes performed as expected. At 25 percent of screen size, the camera reproduced noisefree images up to ISO 6400, while the images were perfectly usable up to ISO 25,600. Enlarged to 50 percent, the images were noise-free up to ISO 1600 and were usable up to ISO 12,800. Viewed at 100 percent, the images were absolutely free of noise up to ISO 800, while remaining usable up to ISO 1600.
With the 24-70mm lens, the camera produced excellent sharpness at most apertures. 4K videos were smooth and punchy.
Value for Money
The Sony Alpha 6500 body retails at an MRP of Rs.1,19,990. We would consider this competitive pricing for this camera. |SP

FINAL SCORE                                                             84%
Design and Build Quality                                  18/20
Key Features                                                           18/20
Ergonomics                                                             17/20
Performance
Autofocus                                                                             5/5
Metering                                                                               4/5
Noise Control                                                                      4/5
Sharpness                                                                             4/5
LCD/EVF                                                                              3/5
Auto WB                                                                                4/5
Sub-Total                                                                   24/30
Value for Money                                                         7/10
PLUS
• Magnesium alloy body
• 5-axis in-body Image Stabilisation
• Improved menu
• Brilliant 4K videos
• Better AF performance
• Good noise control
MINUS
• Tiny built-in flash
• Controls are small
• Only one top command dial
• Card access lamp position
VERDICT
The Sony Alpha 6500 competes with the best in APS-C D-SLRS, and here the camera does a wonderful job. The camera has a new menu in place, which results in improved usability. Being a lightweight and less bulky mirrorless body can shift the balance in its favour. The 5-axis in-body image stabilisation is another feature that can improve the prospects for this camera. Certainly a Best Buy!
Sujith Gopinath