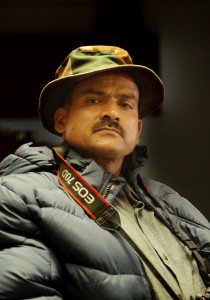 A native to the Himalayas, Pradeep Pandey's main areas of interest are the photographs which seek to establish a relationship between the people and their surroundings.
His job as a bank manager, took him to distant places in Uttarakhand. Trekking and photography helped him understand the relationship between men and mountains- the magnificent interaction which he found to be captivating and thought provoking. While he took up photography merely to spend his leisure time, it soon grew as a hobby and in no time he found himself contributing photographs for publications, calenders, books and newspapers.
Photography has helped him find a meaning in life. Even while being surrounded by duties and compulsions, photgraphy has made him aware about the richness and variety of the Himalayan communities, their stories and also helped him find his way of narrating these stories to the world. Words, he believes, confines our perspectives and one can never fully express his true feelings. A photograph does just the opposite. It also provides viewers with a freedom of interpretation.
A regular participant of treks and expeditions, his choicest photographs he says, were clicked as a mere coincidence. Pradeep has been honoured by the Governor as well as the Chief Minister of Uttarakhand, NDTV, Amar Ujala daily, Fuji Films (India) and Winter Carnival Committee Nainital- as an Outstanding Photographer of the Photo Fest this year (adjudged by the legendary photographer- Sri Raghu Rai).