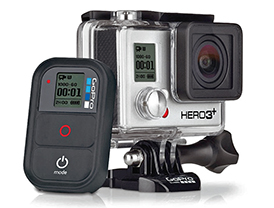 I recall being asked a few years back by a rather cocky Divisional Head of Nokia India the question as to which was the best selling camera in the world. I mentioned Canon and immediately he retorted saying that I was wrong and that the best selling camera in the world was Nokia because they sold more camera phones worldwide than Canon.
Coming back to today, a new category of cameras has suddenly taken an increasing share of the market. In fact, they have started playing a role in the slow demise of the camcorder. This category works loosely under the term "action camera". Action cameras are rugged, water- proof and lightweight cameras that take both video clips and still. They can work in extreme environments where other cameras would cease to function. Further, they can record Full High Definition video in any situation whether its a skydive or a drive around a race track. Most action cameras have the following features:
a. Excellent build quality.
b. Superb handling with as few buttons as possible.
c. High quality wide-angle lens; enough to cover the subject to be shot.
d. Wi-Fi functionality is a must especially if the camera is to be controlled remotely from your laptop or Smartphone.
e. Water-proofing – since the action camera is to be used mainly outdoors and that too in extreme conditions, a water-proof housing can be very useful.
f. Generally, action cameras have very small batteries. It is therefore useful to either have spare batteries or invest in a USB power bank charging unit.

g. A tripod thread is useful with an action camera in order to have a quality picture. Alternatively, adhesive mounts can be used. For more professional applications, helmet mounts or chest harness mounts are
available.
As far as brands are concerned, the leader in this market is clearly Gopro. More Gopro action cameras are sold than any other brand and Gopro's main advertising slogan is "the world's most versatile camera – wear it, mount it, love it". Other brands available in the market include the Ego from Liquid Image, the Game from ION and VIRB Elite from Garmin. Other brands like Rollei and Sony are also testing this fast expanding market segment. 