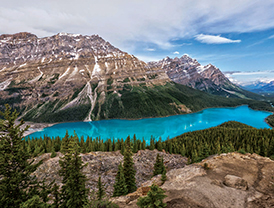 Text and pictures by H. S. Billimoria
If you are fond of nature and are a landscape photographer, there is no better trip that we can suggest than a trip to the Canadian segment of the Rocky Mountains. The Rocky Mountains extend from the western state of British Columbia all the way to Alberta and comprise several peaks, the highest of which is Mount Robson at nearly 13,000 feet.
Keep aside at least 7 days to do full justice to the Rockies. Ideally, start your trip at Vancouver by taking the Rocky Mountaineer train to Banff. From Banff, you can hire a car or take a coach trip which will take you through what is probably one of the most beautiful natural landscapes in the world. This trip will take you through the Banff National Park and the Jasper National Park and you return to Vancouver via Whistler. The best time to visit is early June when there is still some snow left on the mountains.
The Canadians excel in protecting the environment and all nature as well as wildlife is religiously safeguarded. |SP