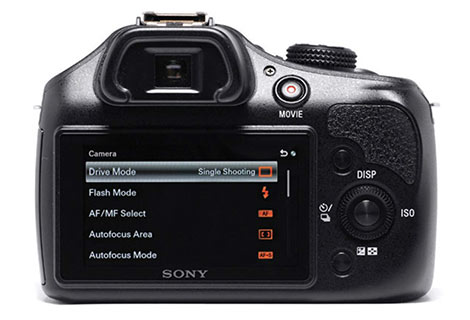 Ergonomics
The deep rubber-lined hand grip and light-weight body make the α3000 very comfortable to hold. But the menus seem to be confusing, and the lack of shortcut buttons add to the inconvenience. The playback button and the LCD/Viewfinder shift button are provided on the top panel, which makes operation a little difficult. The LCD is fixed and the plastic covering over the screen offers little protection from scratches. A very small EVF and tiny on-screen information add to the woes.
Performance
We received the α3000 with the Sony E 18-55mm f/3.5-5.6 OSS lens. Out-ofthe- box images were sharp. The sweet spot was found to be around f/11. Sharpness suffered towards the edges at most other apertures. Autofocus was fast, but struggled to lock on to the subject, especially in low-light. Darkening of corners was observed at the wide-angle end at wide-open aperture.
The lens exhibited barrel distortion at the widest focal length (18mm) and pincushion from 28mm onwards (approximately 42mm equivalent). Auto White Balance produced inherent casts except under studio strobes. Though these were removable in post-processing, the level of correction required was more than that for most other cameras under the same category. The native image size was 12.10 x 18.19 inches at 300 ppi. At 25 percent of the screen size, images were noise-free throughout the ISO range, though we observed some softness from ISO 3200 onwards due to noise-reduction acting up. At 50 percent, we did not observe any noise up to ISO 3200. But all images were perfectly usable. Viewed at 100 percent, images remained noise-free up to ISO 400. Slight noise appeared from ISO 800 to 3200, while the rest were certainly noisy. Overall, the α3000 excelled in noise-control. The lens produced heavy flare along with chromatic aberration. Metering performed as expected. We found lot of pixel jitter on the LCD. Even the EVF was not very comfortable to use, being small, noisy, and strenuous to view.
Value for Money
The Sony α3000 retails at an MRP of Rs.27,990 along with the 18-55mm lens. This seems fair for a 20-megapixel entry-level camera.
VERDICT
The Sony α3000 is an entrylevel mirrorless camera clearly aimed at students and those who are keen on learning the ropes in photography. Certainly recommended.
Sujith Gopinath