H. S. Billimoria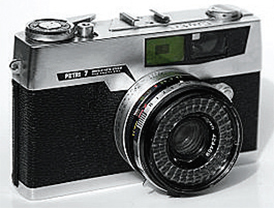 The photography industry has been through a highly exciting but tumultuous century. During this period, many corporates have entered and exited the camera business. The industry has been severely competitive in the nineteen sixties, seventies and eighties and this inevitably took its toll. SP tracks those companies that did indeed play a part in the fortunes of the industry, but for a variety of reasons were forced to exit the business.
Petri Camera Company – Tokyo – Japan
Founded in 1907, the Petri Camera Company was originally known as the Kuribayashi Camera Works. The Company started making optical instruments and launched its first camera in 1919. In its early efforts, its products were mainly mark ted
within Japan and to US Army personnel. The name of the Company was changed to Petri after the second World War. The idea was to make the name more acceptable in the world market. The Company also started  manufacturing lenses.
Petri started of by making rangefinder and roll-film cameras. Petri's rangefinders included the Petri 7 and the Petri 9, both of which met with reasonable success in the world market. However, the Company came into the public eye and drew the attention of photographers throughout the world with the launch of its first SLR, the Petri Penta in 1959. The Penta had a cloth focal plane shutter with speeds from 1/2 second to 1/1000 second and had a screw mount. The screw mount was changed to a breechlock bayonet lens mount with the launch of the Penta V2 in 1961. The camera body was accompanied with a 55mm f/2 or a 55mm f/1.4 lens with fully automatic diaphragm manufactured by Petri itself. The V2 was followed by the V3 in 1963 and then somehow mysteriously with the V6 and the V6 Mark II. The range of lenses supplied by Petri, however, was very limited.
The FT series was launched in 1967 with the Petri FT. The FT2 followed in 1971. During this period, Petri also made SLRs for Exakta of East Germany. Accordingly, the Exakta Twin TL was actually a Petri product. So was the Exakta FE2000.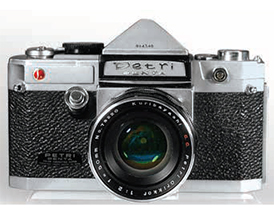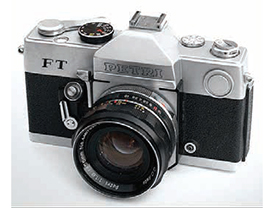 In the early 70's, Petri realized that its unique bayonet mount was limiting its success in the intensely competitive SLR market. It, therefore, switched to the Praktica product screw mount with the launch of the MFT1000. This camera, however, turned out to be its last camera and Petri opted for bankruptcy in 1977. The labour union of Petri tried to run the Company but met with little success and therefore switched to manufacturing telescopes. Dixons, the retail group in the UK, bought the Petri brand and used it for a short time till the early 80's for its branded products.
Petri cameras are still sought after in camera fairs and one in working condition should give you good images. |SP