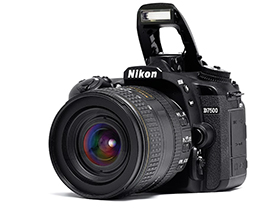 We have been hearing all sorts of rumours about the possible replacement of the Nikon D7200, and now we have got the camera on our test bench. The new D7500 boasts many features that have climbed down from the DX-format flagship D500. Of course, Nikon has to do justice to the D500 and we do not expect this newbie to lure people away from the flagship. Well, it is time to put the D7500 to test.
Design and Build Quality
The D7500 is as large as a full frame body. The camera has a nice and deep grip. The body is predominantly made of carbon composites and has comprehensive weather sealing to protect the electronics from the elements. The body is taller than usual, probably to accommodate the large and squarish LCD. This makes the camera rather boxy. The layout is similar to other Nikons. Both the lens mount and tripod receptacle are metal.
Key Features
The D7500 uses a DX format (23.5 x 15.7 mm) CMOS sensor with 20.9 million effective pixels. This is about 3 megapixels less than the 7200, but this should not particularly worry potential users. The camera captures still images in Raw (NEF) or JPEG format. Of course, simultaneous Raw and JPEG recording remains. As usual, Raw can be 12 or 14-bit, with lossless or lossy compression while JPEGS provide Fine, Normal and Basic options. Still images are captured with maximum dimensions of 5568 x 3712 pixels.
The camera uses an eye-level pentaprism single-lens reflex viewfinder with a Type B BriteView Clear Matte Mark II focussing screen with AF area brackets and framing grid display. The aperture  is electronically controlled and the 7500 has an electronically-controlled vertical-travel focal-plane mechanical shutter. An electronic front-curtain shutter is available in mirror up release mode. The camera provides a shutter speed of 30 to 1/8000sec along with Bulb, Time and X250 options. Flash can synchronise with shutter at 1/320 seconds or lower, but at the expense of flash range. Drive modes available are S (single frame), CL (continuous low speed), CH (continuous high speed), Q (quiet), QC (quiet continuous), Self-timer and MUP (mirror up). The camera can shoot images at up to 8 frames per second in the highest quality. Self-timer can be set to 2, 5, 10 or 20 seconds. Autofocus through viewfinder is done through an Advanced Multi- CAM 3500 II autofocus sensor module with TTL phase detection, while Contrast Detection method is used in Live View. The camera has 51 focus points including 15 cross-type. The central focus point supports f/8. Len servo options are Continuous-servo (AF-C), Auto AF-S/AF-C selection (AF-A) and Manual focus (M). AF area modes available are Single-point, Dynamic area (9, 21, or 51points), 3D-tracking, group-area and auto-area.
In viewfinder-assisted shooting, metering is done through TTL method using RGB sensor with approximately 180,000 pixels and features the usual three modes — Matrix, Centreweighted and Spot. In Live View, the camera uses TTL metering using the main image sensor and provides Matrix, Centre-weighted and Highlight-weighted metering. Shooting modes available are Auto (auto; auto, flash off ), Scene, Special effects, Programmed auto with flexible program (P), Shutter-priority auto (S), Aperture-priority auto (A), Manual (M) and User settings (U1 and U2). Scene modes include Portrait, Landscape, Child, Sports, Close up, Night portrait, Night landscape, Party/ Indoor, Beach/Snow, Sunset, Dusk/ Dawn, Pet portrait, Candlelight, Blossom, Autumn colours and Food. Special effect modes available are Night vision, Super vivid, Pop, Photo illustration, Toy camera, Miniature, Selective colour, Silhouette, High key and Low key. Exposure can be compensated up to +/-5 EV in 1/3 or 1/2 EV steps. Active D-Lighting provides Auto, Extra high, High, Normal, Low and Off options. Picture Controls available are Auto, Standard, Neutral, Vivid, Monochrome, Portrait, Landscape and Flat. Selected Picture Control can be modified. The D7500's native sensitivity ranges from ISO 100 to 51,200, which can be expanded from ISO 50 to 1,640,000.
The D7500 uses an SD/SDHC/ SDXC card (UHS-I compliant) for storage. Built-in flash has a Guide Number of approximately 12m at ISO 100. Flash modes available are Auto, Auto with red-eye reduction, Auto slow sync, Auto slow sync with red-eye reduction, Fill-flash, Redeye reduction, Slow sync, Slow sync with red-eye reduction, Rear-curtain with slow sync, Rear-curtain sync, Off. The flash also supports Auto FP High-Speed Sync. Flash intensity can be compensated from -3 to +1 EV in steps of 1/3 or 1/2 EV. The standard ISO 518 accessory-shoe has sync and data contacts along with safety lock. It is compatible with Nikon Creative Lighting System (CLS). White Balance options include Auto (2 types), Incandescent, Fluorescent (7 types), Daylight, Flash, Cloudy, Shade, Preset manual (up to 6 values, spot measurement available during live view), Colour temperature (2500 to 10,000 K). All these can be fine-tuned if required.
Videos are recorded in MOV or MP4 format at up to 4K UHD (3840 x 2160) quality (30p, 25p, 24p available). The camera has a built in stereo microphone along with an external microphone jack. A 3.2 inch 922 k-dot tilting TFT touch-sensitive LCD serves as the main screen. The camera features a Hi-Speed USB with Micro-B connector, Type C HDMI connector and Stereo mini-pin jack (3 .5 mm) for audio input and output. The device has built-in Wi-Fi and Bluetooth. The 7500 is powered by one EN-EL15a rechargeable Li-ion battery and has dimensions of 135.5 x 104 x 72.5 mm (W x H x D). The camera weighs approximately 720 g with battery and memory card.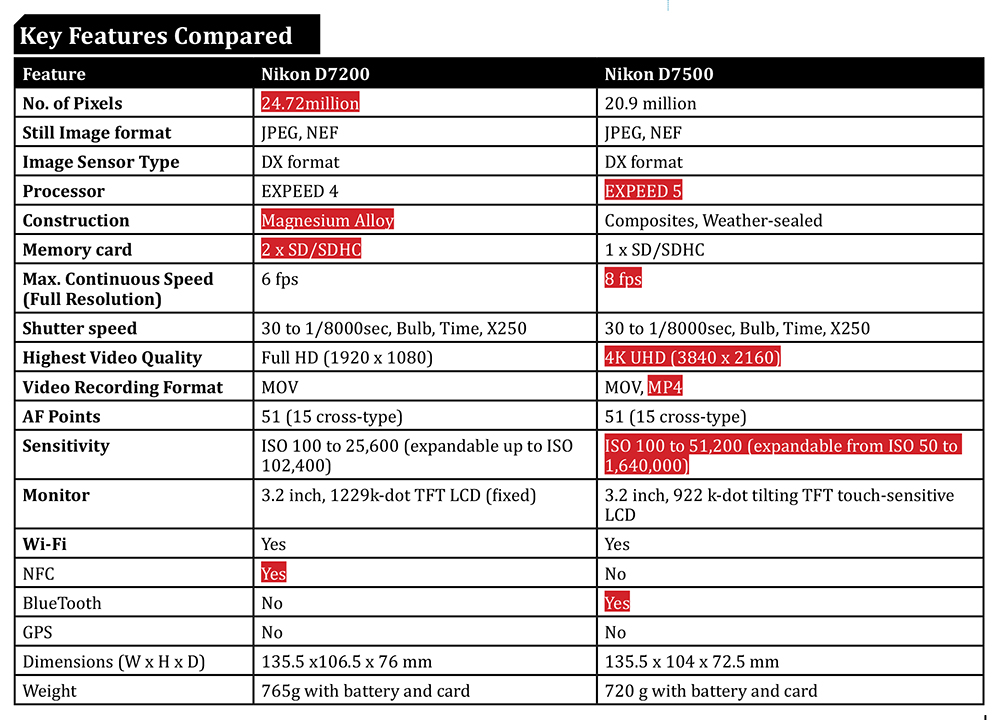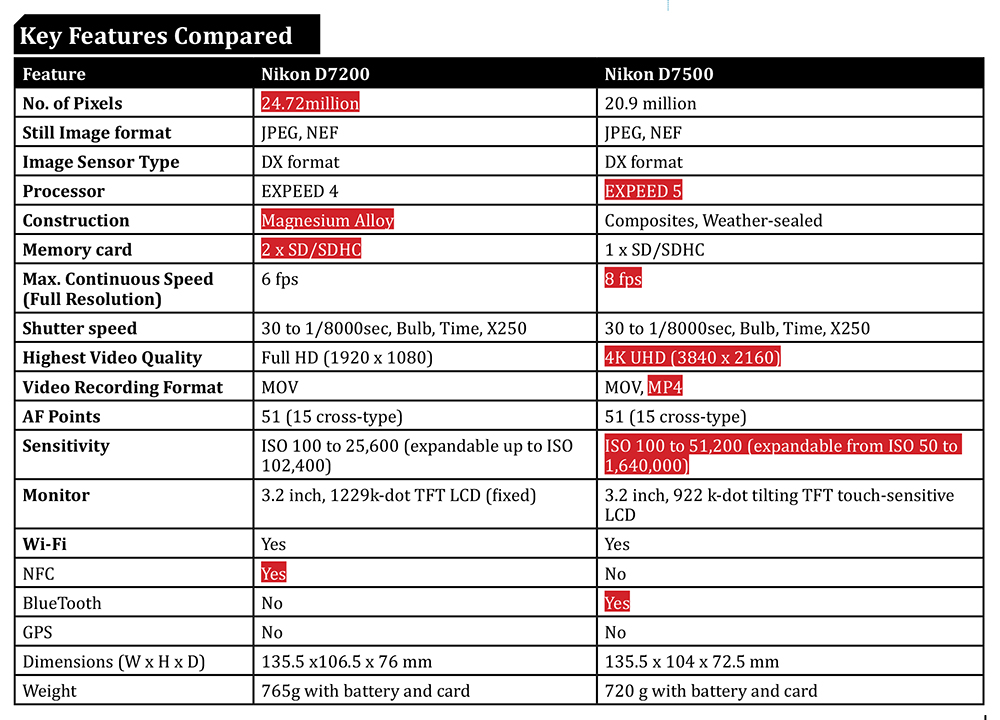 Ergonomics
The D7500 has a large and deep grip with a textured rubber finish that enhances the grip. The LCD can tilt up and down. The viewfinder is bright and offers lot of information including card status and flicker warning. The display is quite legible. A 5-segment battery indicator makes it easier to judge the remaining battery capacity. People with small hands may find the large grip a little uncomfortable to hold. The LCD is easily at par with the the best we have seen. All buttons and dials are easily accessible and already familiar to Nikon users. This is true even in case of the menu.