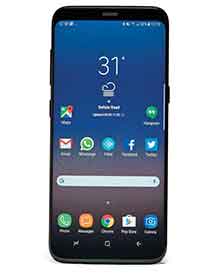 Performance
The camera, overall performance are great and that display, well, that's a guaranteed head-turner. The fingerprint sensor works with amazing accuracy but the iris scanner is more about luck. While we had the phones for testing, it wasn't often that they were able to detect our iris, despite trying to unlock in well-lit areas. Face recognition is fairly accurate and has better chances of working than the embedded iris scanner. Currently, Bixby is in its nascent stage with limited functionality. The phones also have something known as Bixby Vision, which makes use of the camera to intelligently detect and suggest further action. For instance, pointing the camera to a QR code will reveal the code. The detection is generally fast but relies on an internet connection.
The Galaxy S8 series takes some great pictures with fast focus, good colour balance and sharpness. The phones also come with additional modes such as Pro – to give extra control over the picture – Food, Hyperlapse, Slow motion, Panorama, Selective focus and Virtual Shot. You can download more from Samsung's app store. The camera app has also added a variety of live filters and stickers that can be used in real time.
The camera controlled noise very well. You can use up to ISO 800 without significant noise in the image, up to a decent level of magnification, though some noise was evident at higher magnifications. Auto White Balance produced colours true to the original in daylight and any slight cast produced under artificial light sources could be eliminated in post-processing.
Value for Money
Everything boils down to one question – is it worth it? That actually depends. The Galaxy S8 carries a price tag of Rs.57,900, while the Galaxy S8 Plus retails at an MRP of Rs.64,900. Both the S8 and the S8+ are great phones, no doubt, but there's not much of an incentive if you are upgrading from the Galaxy S7 series. If you are coming from Galaxy S6, however, or crossing over from a competitive brand, you will love what the two devices have to offer even at this price. |SP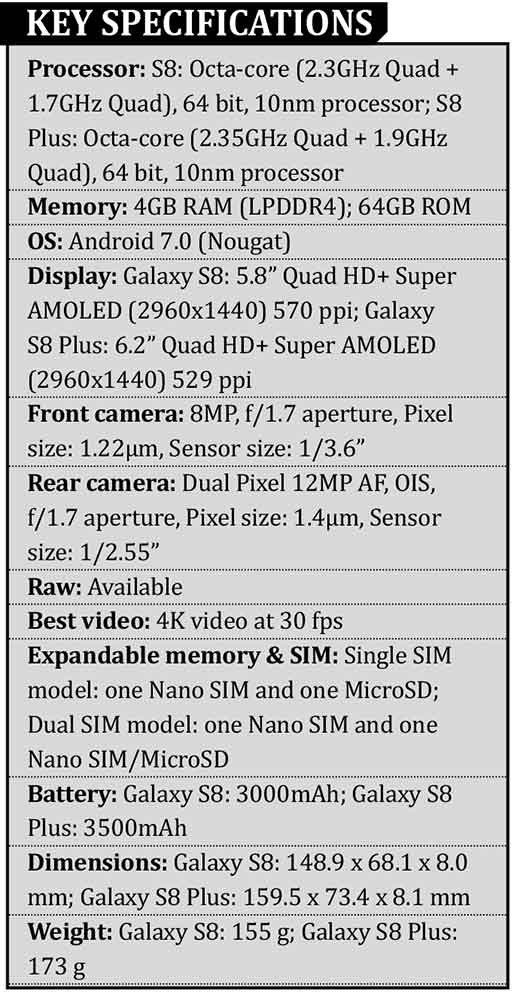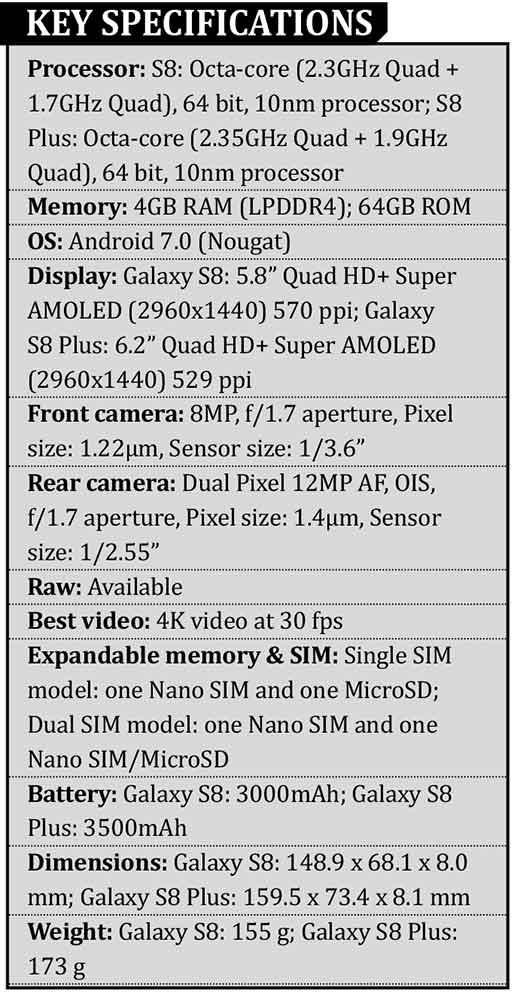 FINAL SCORE                                                        87%
Design and Build Quality                                       18/20
Key Features                                                            18/20
Ergonomics                                                              16/20
Performance                                                 18/20
Value for Money                                        17/20
PLUS
• Beautifully designed
• Excellent camera
• Great performance
MINUS
• Battery life in Galaxy S8
• Fingerprint magnet
• Placement of fingerprint scanner
VERDICT
The Galaxy S8 series is the best Android flagship, with impressive design, camera and performance. The device is sleek and comfortable to hold and you could easily fall in love with the infinity display. We wish the fingerprint sensor was more ergonomically placed and that the surface did not attract so much of fingerprints.
Kunal Gangar