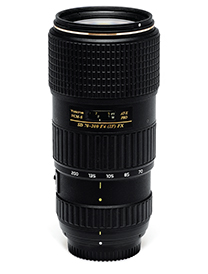 Tokina, which is part of the HOYA group, has always been known for the excellent build quality and optical quality of its lenses. The AT-X 70-200mm f/4 PRO FX VCM-S is a compact, high-performance, twist-type zoom lens and is the rst lens from Tokina to incorporate the company's new proprietary VCM (Vibration Correction Module) that allows for up to 3 stops of vibration correction. The lens is designed for full-frame sensor D-SLRs but can be used with APS-C sensor cameras too. Our review lens had a Nikon mount.
Design & Build Quality
The lens is all-black, matte- nish and looks impressive. Build quality is good. The lens mount is made from metal. A removable tripod collar (TM-705) is available but was not supplied to us. The lens has a 67mm lter thread and weighs 1055g with its supplied lens hood. The lens is made in Japan.
Key Features
As mentioned earlier, the lens is designed for full-frame sensor cameras but can be used with APS-C sensor models. The manual focus ring is towards the lter end and has a 40mm wide textured rubber grip. The zoom ring has 25mm wide textured rubber grip and is clearly marked at 70, 85, 105, 135 and 200mm settings. A distance scale in feet and meters is covered under a clear plastic window. The Tokina AT-X 70-200mm f/4 PRO FX VCM-S lens To ers f/4 aperture throughout its focal range. The narrowest aperture is f/32. A very distinct white dot at the rear end helps to align the lens to the camera body. The lens is not weather-sealed.
The lens is constructed from 19 elements in 14 groups which include 3 SD Super- low Dispersion glass to reduce chromatic aberration. It further employs multi-coatings to reduce are and ghosting. is lens has a ring-type Ultra Sonic Motor (hence the 'S' in its name) for quick and The cient autofocus. The lens has 9 aperture blades for a smooth bokeh and an IF (Internal Focus) design due to which the physical length of the lens does not change during zooming or focussing. The front element does not rotate, making it convenient to use CPL and Graduated Neutral Density lters. On the le side of the lens are two switches – AF-MF on the top and VCM ON-OFF below.
Ergonomics
We tested the lens using a Nikon D4 body. The combo felt heavy at 2460g but note that the D4 body alone is 1405g. The lens balanced perfectly well and was very easy to use. An accessory lens collar is available in case you need it but some users (like photojournalists) prefer to mostly shoot hand-held and as such a lens collar may not be of much use to them.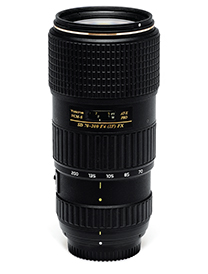 Performance
Our tests were done using the JPEG format.
Autofocus was silent and reasonably fast in good light, a bit slower in poor light. AF could be manually overridden. is is not a macro lens but at the closest focussing distance of 1 meter, you get a magni cation ratio of little under 1:4, which is quite good for not-so-tiny subjects. When attached to the full-frame sensor body (Nikon D4), images were adequately sharp in the centre but noticeably soft at the sides/ corners. We felt that, overall, the maximum sharpness was achieved between f/8 and f/11. When attached to an APS-C body (Nikon D750), the sides/corners appeared definitely sharper as compared to the fullframe body. This of course is to be expected because with the smaller sensor, the camera uses only the central part of the lens. The Vibration Correction (VCM) increased the number of sharper images when the  camera was hand-held but we have no way of confirming the 3-stop advantage that Tokina claim.
Slight corner darkening was observed with the lens wide open (at f/4) at 70mm and also closed-down one stop more, at f/5.6. There was no corner darkening at any other aperture setting. We did not notice any distortion at 70mm and 85mm but slight pin-cushion distortion was noticed at 105, 135 and 200mm settings, which was easy to correct in post-processing. Some flare was observed in strong againstthe- light shots but there was no chromatic aberration, which is very good.
Note: The shots were taken in JPEG. The camera automatically reduces/removes CA from JPEG files. Since the feature is available, why not use it?
Value for Money
The Tokina AT-X 70-200mm f/4 PRO FX VCM-S lens is available at an MRP of Rs.91,000. We say that it is fair value for money.


PLUS
• Overall, good image quality
• Good build quality
• 9-bladed diaphragm provides good bokeh
MINUS
• Heavy
• Nikon's 70-200mm f/4 offers 4-stop VR advantage
FINAL SCORE                                            77%
Design and Build Quality                          16/20
Key Features                                          15/20
Ergonomics                                             16/20
Performance
Autofocus                                            3.5/5
Sharpness                                             4/5
Distortion Control                                    4/5
Aberrations                                            4/5
Darkening of Corners                              4/5
Extra Features                                      3.5/5
Sub-Total                                           22.5/30
Value for Money                                   7/10
VERDICT
One more lens for the shortlist. If you are looking for a 70-200mm lens, the Tokina should be in your radar.
Rohinton Mehta