It is yet another New Year, and one that we are looking at with much excitement. It is also the time for us to set aside the hopes, concerns and curiosities and reflect upon a year gone by. For Smart Photography, a reflection on the previous year cannot go by without a compilation of the best cameras available in the market by the end of 2016. Here is a compiled list of top D-SLRs in the market. The cameras are featured in random order and hence the first position does not necessarily indicate that it is better than the rest. The list includes both Full Frame and APS-C format D-SLRs.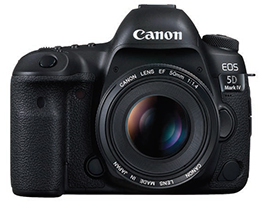 Canon EOS 5D Mark IV
The 5D-series has been the best selling fullframe D-SLRs from the Canon stable, and the EOS 5D Mark IV features major advancements. is 30.4-megapixel camera boasts Dual Pixel CMOS AF, enhancing speed and precision in AF. The camera is capable of recording 4K videos at 25 or 30p and features 4K Frame Grab. All 61 AF points are f/8-sensitive, and 41 points are capable of cross-type AF. The camera also supports touch  screen operation of AF points for enhanced accuracy, as well as recording in Dual Pixel Raw format, which allows precise micro-adjustment of captured images. e built-in Wi-Fi/ NFC system enables image les to be quickly and easily backed up or transmitted online for real time sharing.