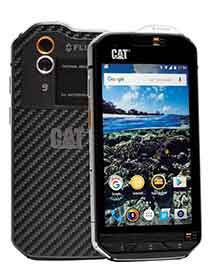 Smartphones have evolved into specialised devices, and Android platform, with its developerfriendly features, provides an ideal environment for innovators. CAT brand of mobile phones, part of Caterpillar group, is offered by Bullitt Mobile Ltd. The device is not an ordinary mobile phone and certainly not everyone's cup of tea. The CAT S60's main USP is a thermal imaging module incorporated along with the normal camera mode. The module is developed by FLIR systems, a leader in thermal imaging (In fact, the company derived its name from the acronym for Forward-Looking Infrared).
If you are wondering about the utility of this phone, let us look at the other features of this device. The CAT S60 is rugged. It is waterproof up to a depth of 5 metres for an hour. It has a strengthened die cast frame and the company claims that it exceeds military specifications. The device is built to withstand a 1.8m drop and is IP68 and MIL-SPEC 810G certified, making it waterproof, dustproof and shockproof. The LCD is protected by a Corning Gorilla Glass 4 protective screen.
But why do you need a thermal imaging system? Though this system has limited utility in pure photographic applications, it is quite useful if you are into electrical and electronic fields and temperaturecritical applications such as HVAC (Heating, Ventillation and Air Conditioning). It will also help you to detect animals and birds in the wild. It will find use in detecting heat loss around windows and doors, spotting moisture and missing insulation, identifying over-heating electrical appliances and circuitry and seeing in complete darkness. The camera measures heat and highlights temperature contrasts.
The CAT S60 features a dedicated SOS button, which can be programmed to send out message with location coordinates to pre-selected contacts in case of an emergency. The device also features a programmable button, which can be customized for short press and long press for quick launch of any application. In addition to the special features mentioned above, the S60 uses a 3800 mAh battery and has a 13 megapixel main camera, which functions even as an underwater camera. The front camera is a 5 megapixel model. The device has dual 4G LTE enabled SIM slots.
The S60 uses a Snapdragon 617 octacore processor and features 3GB RAM and 32GB internal memory, which is expandable up to 128GB with a micro SD card. The device runs on Android Marshmallow. The phone includes some very useful applications such as Hike (provides various tools and readings such as atmospheric pressure, altitude, coordinates, trip distance, compass, azimuth, weather information, flashlight and SOS button) and Speaker Dry (dries the speaker if the device is wet). The S60 also has its own dedicated app store called App Toolbox, from which you can download various useful apps. The CAT S60 retails at an MRP of Rs.64,999. |SP