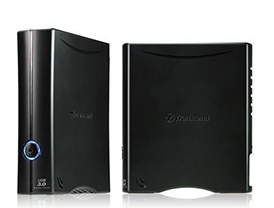 Transcend Information Inc. has taken wraps off its newest device— StoreJet 35T3. This black and sleek 3.5'' device offers storage capacity up to 8TB and a USB 3.0 interface. It further provides a transfer rate of up to 200 MB/sec. With this speed, it would be a hassle-free task to transfer a 4.7GB movie, which will take about a mere 24 seconds.
This hard drive features a One Touch auto-backup button. This helps the user in taking an instant back-up and synchronising their data with a notebook or desktop, making sure that their data is stored in a secondary location.
Another value-added addition is the inclusion of a free download of the Transcend Elite data management software that helps users manage their data. They can perform incremental backups, secure confidential information and a lot more. StoreJet 35T3 is available in 3TB, 4TB and 8TB capacities. The device comes with Transcend's three-year  limited warranty.