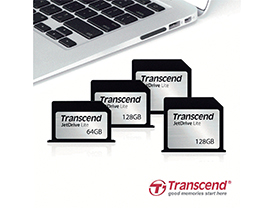 Transcend Information launched the JetDrive Lite series of expansion cards, meant for MacBook Pro with Retina display and MacBook Air users. With four different models offered in 64GB and 128GB capacities, the cards increase available storage for media.
With their substantial amount of storage space, Transcend's JetDrive Lite expansion cards provide plenty of space to backup, store, and carry personal documents, photos, movies, and music. The 128GB card, for instance, can store over 60,000 high-resolution photos, 32,000 MP3 songs, 32 hours of Full HD video, or a large number of documents. When inserted into the card slot of a compatible MacBook Pro with Retina display or MacBook Air, the low-profile JetDrive Lite will not stick out like an SD card and can be left in place for on-the-go storage. Manufactured with MLC NAND flash chips, JetDrive Lite expansion cards have read and write speeds of up to 95MB/s and 60MB/s respectively. The JetDrive Lite expansion cards are equipped with built-in ECC (error correction code), which automatically corrects potential transfer errors, and utilizes a wear-leveling algorithm for consistent operation. The cards are manufactured using a special COB (Chip-on-Board) technique, making them completely resistant to dust and water.
The JetDrive Lite Series of expansion cards are available in 64GB (Rs.2,899) and 128GB (Rs. 5,799) capacities. All Transcend memory cards are fully tested for compatibility and reliability, and carry Transcend's renowned Limited Lifetime Warranty.