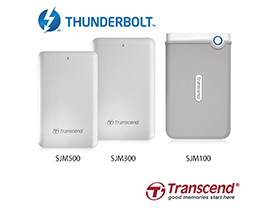 On November 21, 2014, Transcend Information Inc announced the launch of the StoreJet for Mac (SJM) series. Exclusively for Mac, Transcend's SJM100 Portable Hard Drive, SJM300 Portable Hard Drive and SJM500 Portable Solid State Drive (SSD) offer great storage space and fast data transfer speeds. In addition, all three models are natively formatted in HFS+ and fully support the Time Machine back-up software application.
Transcend says the SJM100 portable hard drive meets rigorous U.S. military droptest standards. The outer shell is made of a slip-resistant silicone material, reinforced by an internal hard drive suspension damper, offering maximum shock-absorption. It offers an additional 2TB of storage space to save up to 512 hours of full HD video, over 32,000 hours of digital music, or more than 960,000 high resolution digital images. The SuperSpeed USB 3.0 interface offers better transfer rates and provides 10 times the bandwidth of USB 2.0. When used with Transcend Elite software, users can instantly back up and synchronize data with their notebook or desktop PC.
The SJM300 portable hard drive and SJM500 portable SSD offer transfer rates of up to 10 GB/s. Both the models are also equipped with a SuperSpeed USB 3.0 port (SJM500 with UASP support for even higher transfer rates), providing 10 times the bandwidth of USB 2.0. All models of the StoreJet for Mac series include Transcend Elite, a user-friendly application for data management and encryption and protecting data. This comes with Transcend's three-year limited warranty.