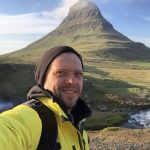 Alexander Vershinin is a professional photographer and a member of The North American Nature Photography Association (NANPA), the International Association of Panoramic Photographers (IAPP), Creative Asia Photo Association, and the Professional Photographers of America (PPA). He is into adventure tourism and specialises in panoramic landscape photos.
Alexander is a 100 percent self-taught photographer who has studied the art only through books. He has travelled a lot and takes part in many mountain and desert expeditions. He has travelled through Australia, South and North America and Asia on his photographic journeys in search of creating amazing landscape photos.
According to Alexander, "landscape photography makes it possible to better see the world around us, to expand the framework of the available view of nature, to attract more depth and help find oneself in places free of tourists".

Please tell us something about yourself. What made you pursue photography, especially landscape photography?
My name is Alexander Vershinin. I was born in Moscow, Russia, in 1975.
I became interested in photography in elementary school when I was about 10 years old. Those days there were no digital cameras, and I had to develop the films myself and print photos without printers. Today I specialise in large-format, fine art landscape panoramic photography. I started doing it professionally in the early 2000s, when I began to travel a lot around the world. Later, simple tourist trips turned into big photo tours and expeditions, and I began to bring panoramic photographs from different parts of our planet.
Over time, this hobby grew into a profession. My works were selected for the Annual GEO calendar in 2016. Part of my work was bought by Educa — a puzzles manufacturing company, and I still find puzzles with my photo arts in different stores around the world. I still take part in many photo contests. Maybe someone will say that such contests do not bring any profit to the photographers, but they allow you to keep yourself in professional shape, not to relax and not fall below the bar that you set for yourself. Many organisers of photo contests request me to leave my work with them in order to showcase the images in future exhibitions depicting nature photos or simply beautiful landscapes.

You state that you are a self-taught photographer, having picked up your knowledge only from books. Can you recommend some good books which inspired you and in what way?
The first book you need to pay attention to is the manual for your camera. Usually, people buying a camera take it out of the box, leaving the instructions inside, and then they try to study their camera by the trial-and-error method, even though the instructions have answers to many necessary questions from novice photographers and even more, as some beginners don't even know what questions should be asked.
In addition, I would like to recommend the book Teach Yourself Photography by Lee Frost, which will not only help you get the basics of photography but also help you to choose a camera. And if you are interested in panoramic landscape photography, the book by the same author Panoramic Photography is sure to be useful to you.

What challenges did you face as a self-taught photographer?
The desire to quickly get the results and learn how to make beautiful photos. Photography is similar to other professions in that it requires long and consistent studying, training, accumulation of experience and constant practice. For example, when I worked with a film camera, I selected the film that would suit my task in outdoor nature photography. I tested them in various conditions and situations. As a result, many hundreds of metres of those films were sent to the trash.