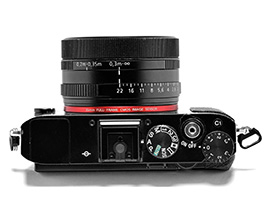 Performance
The Rx1R II produced sharp images out of the box, though the peripheral sharpness suffered at close proximities. Autofocus was fast and precise, and the system latched on to the subject even under low light. We observed prominent darkening of corners with the lens wide open. The lens exhibited severe barrel distortion at close distances. However, it vanishes about 10 feet from the subject. The camera produced heavy flare and chromatic aberration at wide-open aperture in strong against-the-light shots. Surprisingly, the results of chromatic aberration shifted from purple to green fringing with a slight shift in the position of the camera. The full frame sensor produces great dynamic range, and uncompressed Raw format allows you to bring out greater detail in post-processing.
The camera controlled noise very well. Images were absolutely free of noise up to ISO 3200 and quite usable up to ISO 25,600. Auto White Balance worked perfectly under natural light. Distinct cast was observed under artificial light sources, but these were easily removable in post processing. Full HD Videos were smooth and punchy.
Value for Money
The Sony RX1R II retails at an MRP of Rs.259,990. We would say, this is grossly overpriced, in spite of the brilliant performance of the camera. |SP

FINAL SCORE                                                          76%
Design and Build Quality                                14/15
Key Features                                                       13/15
Ergonomics                                                          12/15
Performance
Autofocus                                                                   4/5
Metering                                                                     5/5
Noise Control                                                             5/5
Sharpness                                                                   4/5
Darkening of Corners                                                2/5
Flare and CA                                                              2/5
Distortion                                                                   4/5
LCD/EVF                                                                    4/5
Auto WB                                                                     3/5
Sub-Total                                                              33/45
Value for Money                                                  4/10
PLUS
• Excellent build quality
• Full frame sensor
• Variable Low-Pass Filter effect
• Wide aperture
• Superior noise control
MINUS
• Fixed focal length lens
• Strong Flare and Chromatic Aberration
• No 4K video capability
• Exorbitant price
VERDICT
The Rx1R II has no parallels in the Indian market, being a 42.4 megapixel full frame compact camera with a fast prime lens and a sturdy body. There is no doubts that the camera is a true asset in the hands of an uncompromising photographer. But it has several limitations and is quite overpriced.
Sujith Gopinath